INTERFACE SCREENSHOTS & DEMO TRACKS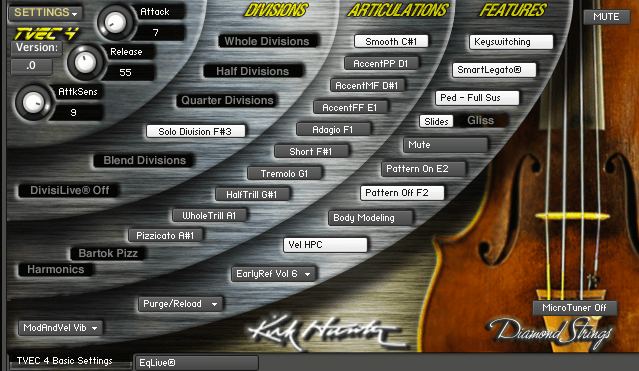 (Downloadable Files)
These are the same amazing solo strings that are included in Diamond Symphony Orchestra. Special attention was given to make sure this library was both expressive and playable. And TO DATE, there is nothing that compares to the passion in the Romantic Solo Violin, which is also included as a bonus in Solo Strings 1.
This library is a best seller!
Musically-recorded solo violin, viola, cello and double bass with a bonus Romantic Solo Violin.
This library is available Kontakt, and in Logic's EXS24 format
6GB disk space
Kontakt 5.7.1 or newer. Must be the FULL version, not the free player version.
What do The War of the Roses, Death to Smoochy, The Nutty Professor have in Common? Kirk Hunter sample libraries.
"I have done 4 scores with just Kirk Hunter's Concert Strings, and have been totally pleased with the results. Kirk Hunter's Concert Strings have proven, time and time again, to be my 'go to' string library for scoring work. This library really shines when you actually hear it in the context of your midi composition. There's something about the sound that really makes it work well when going after that big 'Hollywood' style film score sound. Then there's the bonus of having all of the articulations there on the same track, allowing you to have just one track for each section in your sequence. This has sped up my work flow substantially, keeping my sequence tidy, focused and clean. I haven't played a library yet that has such a strong dynamic range available, whether via velocity or mod wheel. Kirk, you rock!!!"
"The Kirk Hunter Strings are the 'go to' library for Kontakt. They are meticulously constructed and give you every possible articulation."
"It is a rare occurence that a sample library is released which has such dynamic expression and playability that it allows a musician to express himself with great believability in the final music. When composing orchestral music with sample based libraries, I sometimes tend to write within the limitations of those samples. Kirk Hunter's orchestral libraries are that rare exception. They give tremendous creative freedom to the composer seeking orchestral realism, playability and tone. Kirk's Diamond strings have so much warmth and expressiveness it is simply staggering. The brass and woodwind samples in the same library have a dynamic range from extreme force to the most intimate tone one can imagine. For that reason, Kirk's libraries are at the forefront of my orchestral sound."