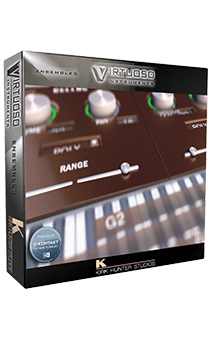 INTERFACE SCREENSHOTS & DEMO TRACKS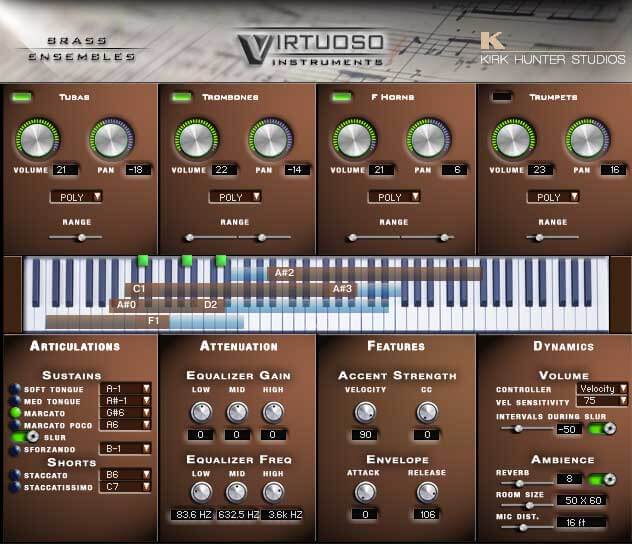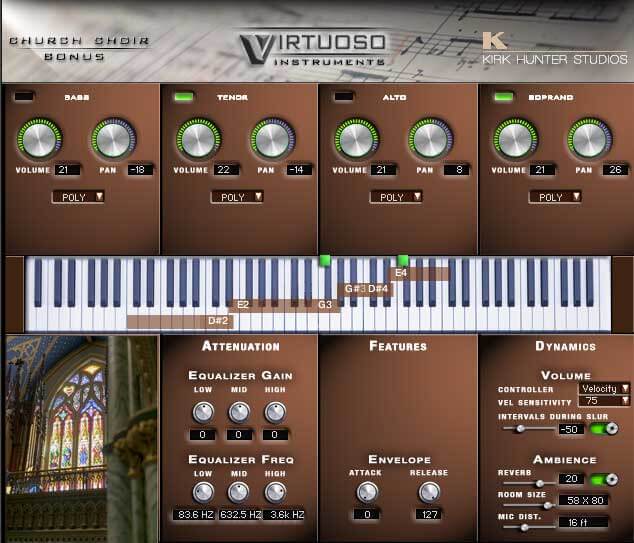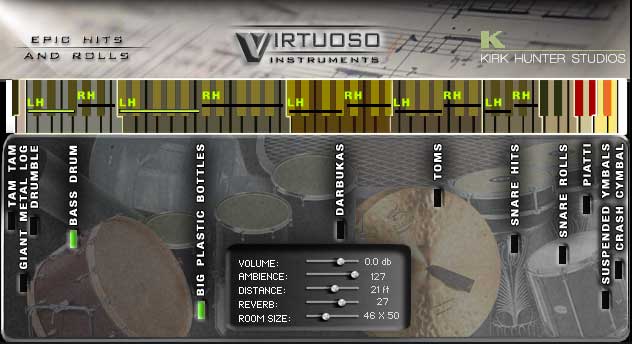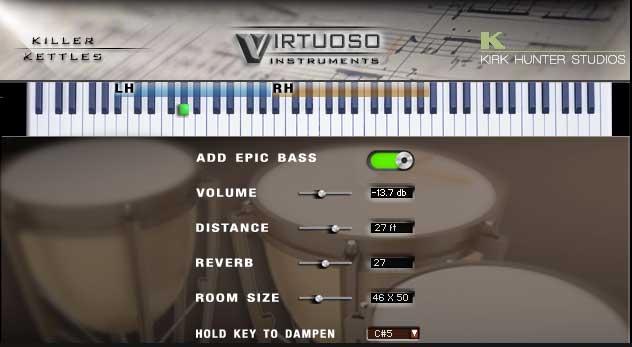 The Orchestra At Your Fingertips
(7 Downloadable Files)
VIRTUOSO ENSEMBLES is an epic virtual orchestral collection that's ideal for music composition and live music performance. Designed with unprecedented flexibility, you now have the ability to arrange your own custom ensembles putting the orchestra at your command.
Developed in the Native Instruments Kontakt Player engine, VIRTUOSO ENSEMBLES delivers the finest quality sampled sound of an orchestra with extremely detailed user control; perfect for your final productions.
---
Get The Sound You Need - Strings, Brass, Woodwinds, Percussion, Piano, Choir…
VIRTUOSO ENSEMBLES goes above and beyond in delivering all strings, brass and woodwind solo sections of a full orchestra while also including auxiliary percussion, epic hits, pristine piano, and an elegant choir.
Of course, the strings, brass and woodwind sections are the collective core of this library. With truly great sounds spanning all sections of the orchestra into one instrument, you will find yourself using this library as your go-to tool for composing, performing, and professional music productions.
Additionally, these instruments are optimized to have a very low memory footprint, while still being "chromatically" multi-sampled. FOR MORE TECHNICAL DETAILS ABOUT THE ENTIRE PRODUCT PLEASE DOWNLOAD THE MANUAL DOCUMENTATION HERE
---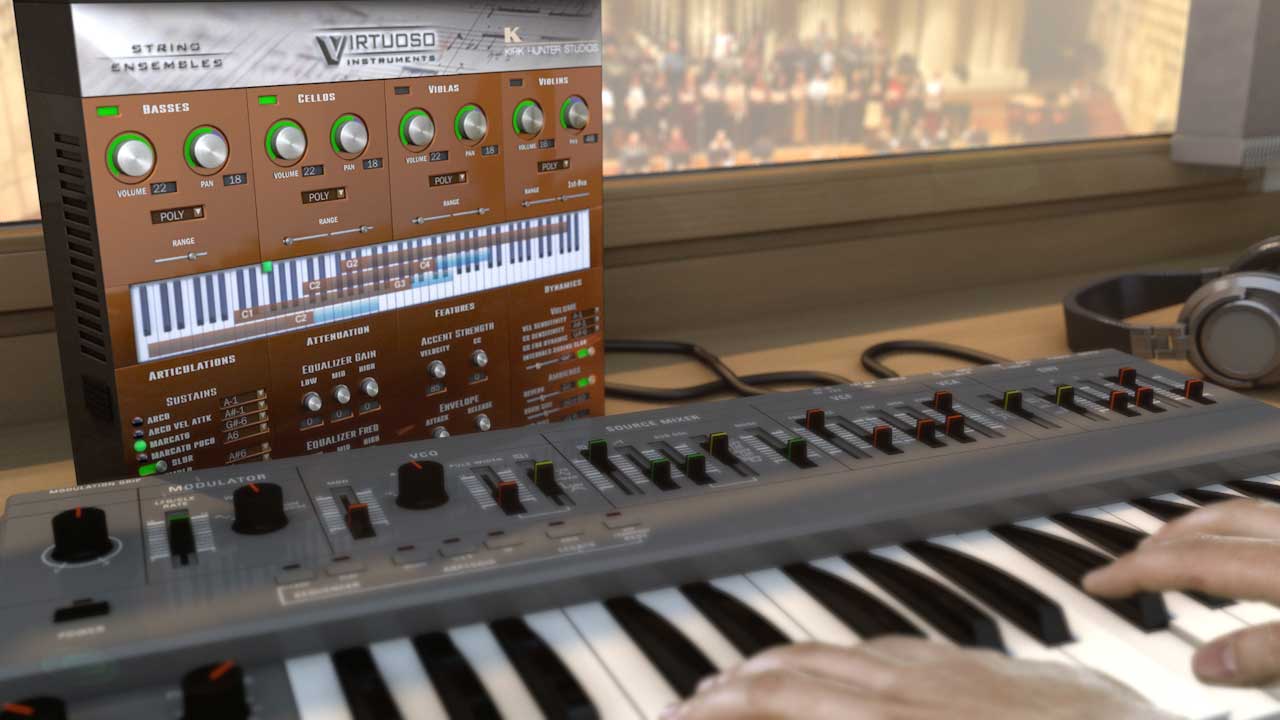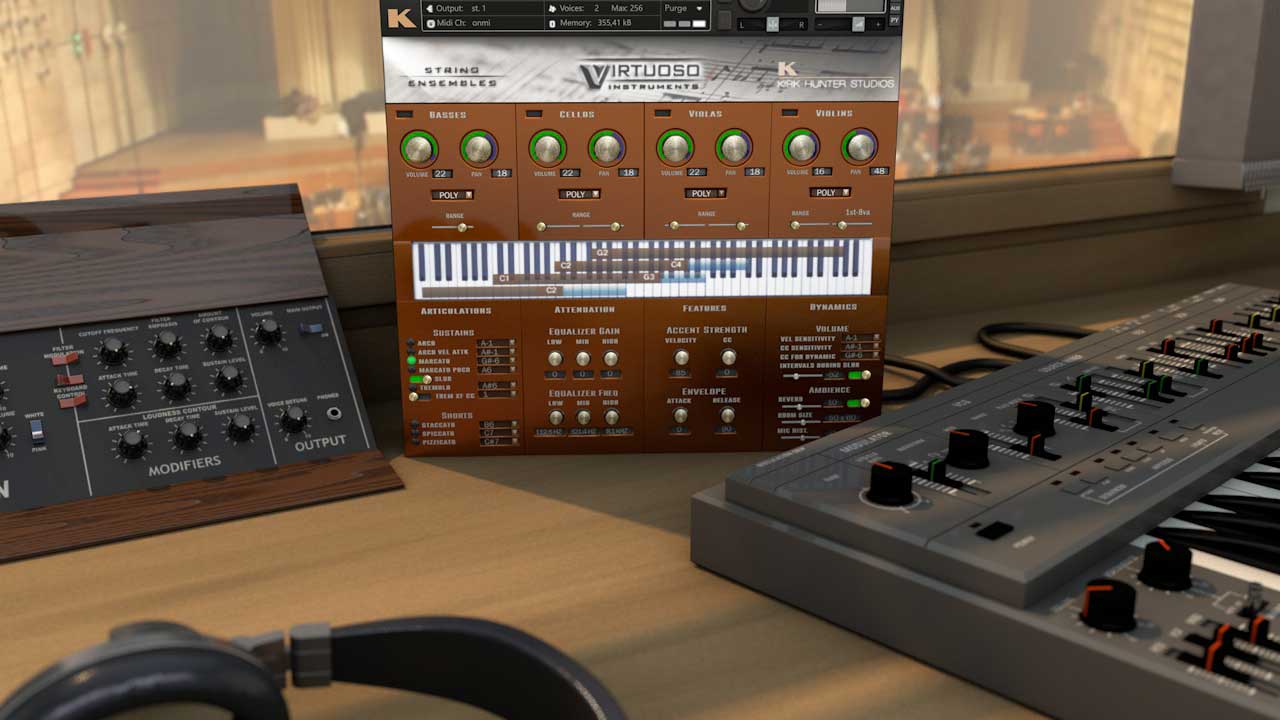 The Key Features of Virtuoso Ensembles
Control four instrument sections, (strings, brass, woodwind solos) mapped across the keyboard for a realistic feeling of an entire orchestral compliment.
Multiple articulations, dynamics, and round robins.
Provides efficient and intuitive control to modify the split or crossfade between each of the 4 sections giving you amazing flexibility to get the ideal mix.
Intuitive visual dynamic LED indication for active section and active keys played.
Effortlessly switch between "Legato" and "Poly" modes.
Uses IntervaLive® to add realistic transitional intervals in both "Legato" and "Poly" mode.
Stack up any combination of the 4 sections together, or use them independently.
Control the mix of each section's volume and pan.
Includes many popular "sustained" articulations - Arco, Marcato, Tremolo, Soft and Medium Tongue, Sforzando, and more.
Includes many popular "short" articulations - Staccato, Staccatissimo, Spiccato, and Pizzicato.
Uses "slur" and "sustain" articulations. Even aggressive ones such as "Marcato" will always have smooth slurs.
Provides accent strength control for the Marcato, Sforzando, Staccato, Staccatissimo, and Spiccato articulations via velocity and MIDI CC .
Crossfade any "sustain" articulation with the "tremolo" articulation via MIDI CC (Strings only).
User-selectable keyswitching.
Choose volume control via velocity, or MIDI CC, or both.
Velocity sensitivity (strings, brass, woodwinds) and MIDI CC sensitivity (Strings) control for volume.
Fine-tune envelope attack and release control.
3 band semi-parametric equalization.
Reverb on/off and amount.
Room size (for reverb).
Stereo/Mono slider (Shown as distance in feet. With or without reverb).
---
How Exactly Are the Instrument Sections Divided?
Instrument
Section 1
Section 2
Section 3
Section 4
Articulations
Strings

789 MB total sample size
16 1st and 2nd Violins
12 Violas
12 Cellos
6 Basses

Arco
Arco w/Velocity Attack
Marcato
Marcato Poco
Tremolo
Slur
Staccato
Spiccato
Pizzicato

Brass

426 MB total sample size
4 Trumpets
6 French Horns
4 Trombones
2 Tubas

Soft Tongue
Medium Tongue
Marcato
Marcato Poco
Sforzando
Slur
Staccato
Staccatissimo

Woodwind Solos

496 MB total sample size
1 Flute
1 Oboe
1 Clarinet
1 Bassoon and C. bassoon

Medium Tongue
Marcato
Marcato Poco
Sforzando
Slur
Staccato
Staccatissimo

Church Choir
56 MB total sample size
Sopranos
Altos
Tenors
Basses
Sustain "Ah"
Instrument
Sections
Articulations
Virtuoso Epic Hits and Rolls

160 MB total sample size
Tam Tam, Giant Metal Log, Drumble, Bass Drums, Big Plastic Bottles, Darbukas, Toms, Snare Hits, Snare Rolls, Piatti, Suspended Cymbals, Crash Cymbals
Single L/R Hits for shorter sections
Tympani

258 MB total sample size
23 inch tympani, 26 inch tympani, 30 inch tympani

Single L/R Hits
Roll
Roll w/Modwheel
Crescendo
Sfz Roll w/Modwheel
Crescendo
Short Roll

Piano
7 foot Yamaha G5
Special Sustain Pedal Effects included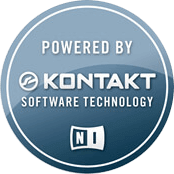 Technical Specifications
VIRTUOSO ENSEMBLES includes over 4404 samples, and over 2.5 GB compressed sample content using Kontakt's lossless sample storage compression. All samples are delivered at 44.1kHz/24-bit.


System Requirements
Requires Kontakt Player (free) or Kontakt Retail (sold separately) Version 5.3.2 or higher
Mac OS X 10.9, or newer (latest update), Intel Core 2 Duo, 4 GB RAM (6GB or more recommended)
Windows 7, Windows 8, or Windows 10 (latest Service Pack, 32/64 Bit), Intel Core 2 Duo or AMD Athlon 64 X2, 4 GB 
RAM (6GB recommended)
3 GB free disk space for VIRTUOSO ENSEMBLEss sample content
1 GB free disk space for Kontakt Player
Compatibility
Stand-alone
VST
Audio Units
RTAS (Pro Tools 9 + 10); AAX Native (Pro Tools 10 or higher); 64-bit AAX (Pro Tools 11)
CoreAudio
ASIO
WASPI
Kontakt is continuously being updated. For the latest system compatibilities visit the Native Instruments website.
Virtuoso Ensembles has a huge, thick sound in a small footprint, and lets me get writing fast with minimal CPU hit, even on a laptop.
I love how the ensemble patches let me decide on split points and overlaps between the sections on the fly, which really suits the way I like to work.
The smooth, thick sound of Kirk Hunter libraries has been at the core of many of my scores for the last fifteen years, and the new Virtuoso Ensembles is a welcome addition to my template.
Another easy to use winner from Kirk Hunter, Virtuoso Ensembles will be all over the next installment in the SAW horror franchise for sure!
This is a fascinating new orchestral library. It's amazingly compact and simple to use. It will be a perfect addition to your template as a sketchpad for developing orchestration and arrangements easily!
Kirk Hunter's Virtuoso Ensembles is simply a fantastic writing tool, with rich lush sounds and a very intuitive user interface. Within minutes of loading it up for the first time I was using it in the piece I was composing, and that tells me it's a good library. I love the fact that they created ensemble patches as well as separate section patches. For example the Virtuoso Brass
Ensemble patch has tubas, trombones, french horns and trumpets spread out across the keyboard, so you can sketch ideas with the entire brass section at your fingertips, and then load up the
individual sections to start fine tuning your orchestration. This is a great tool and not something I see in a lot of other libraries. Thank you Kirk and team for creating another awesome
library.