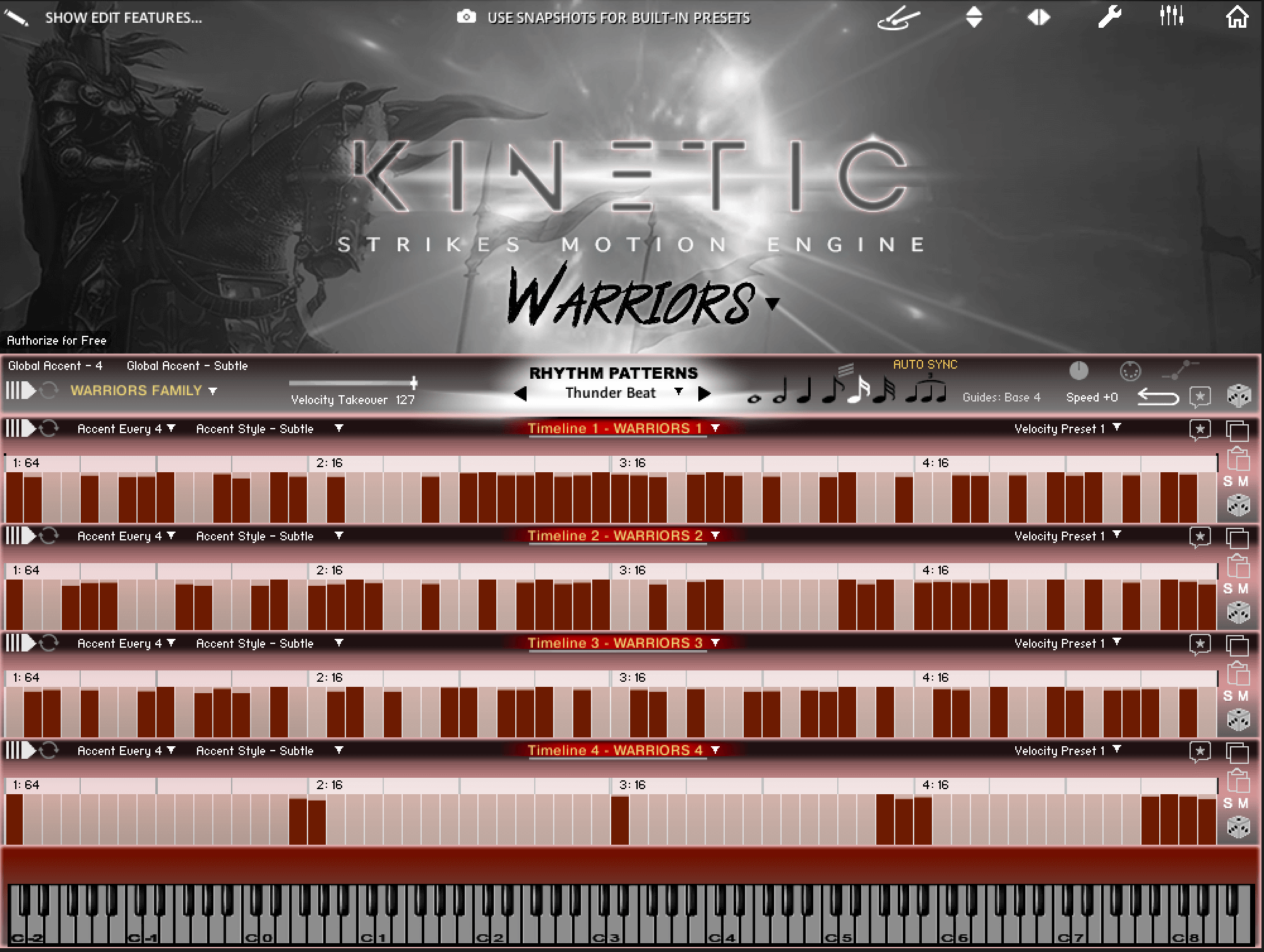 Kinetic Percussion Motion Engine
INTERFACE SCREENSHOTS & DEMO TRACKS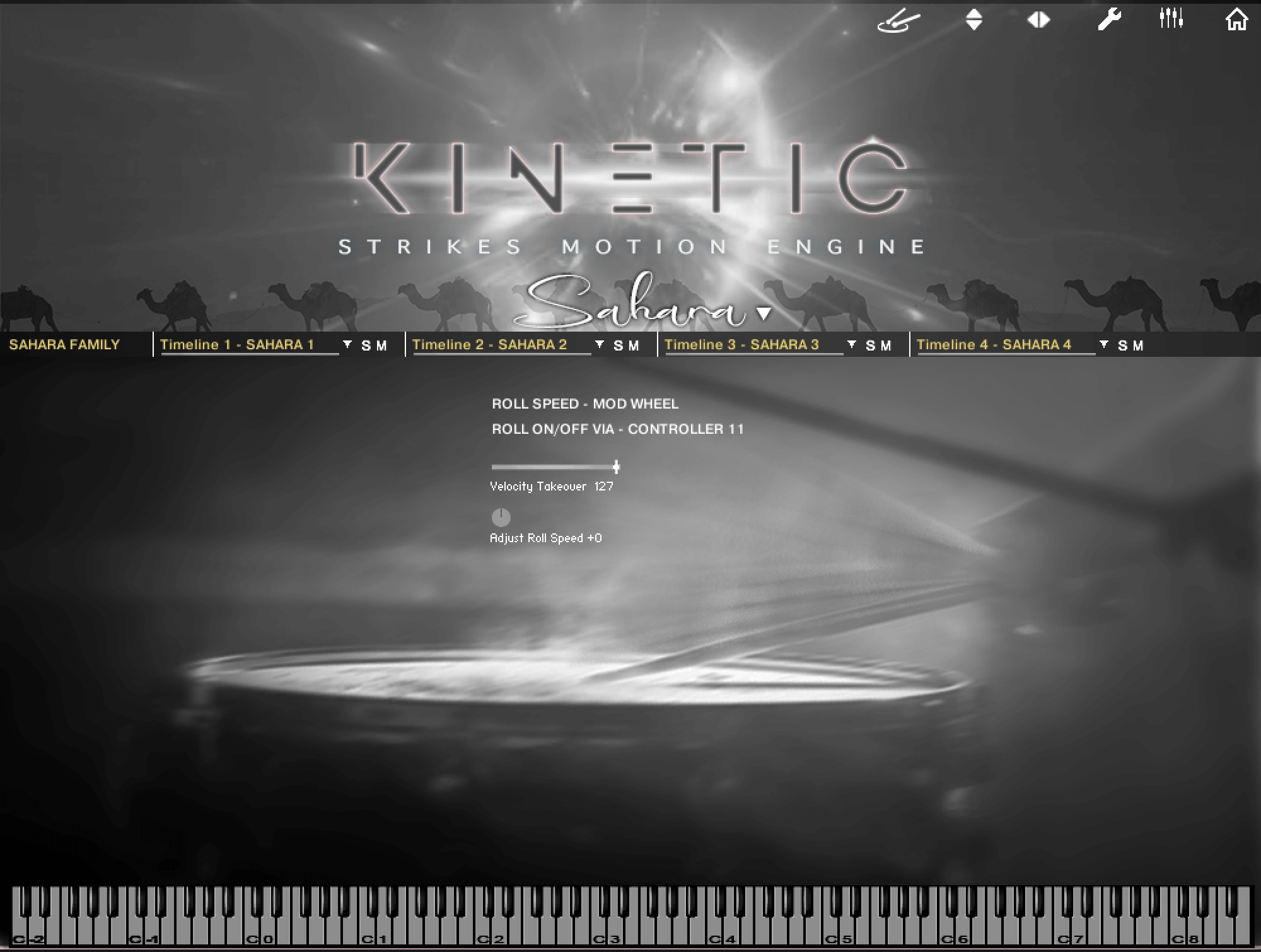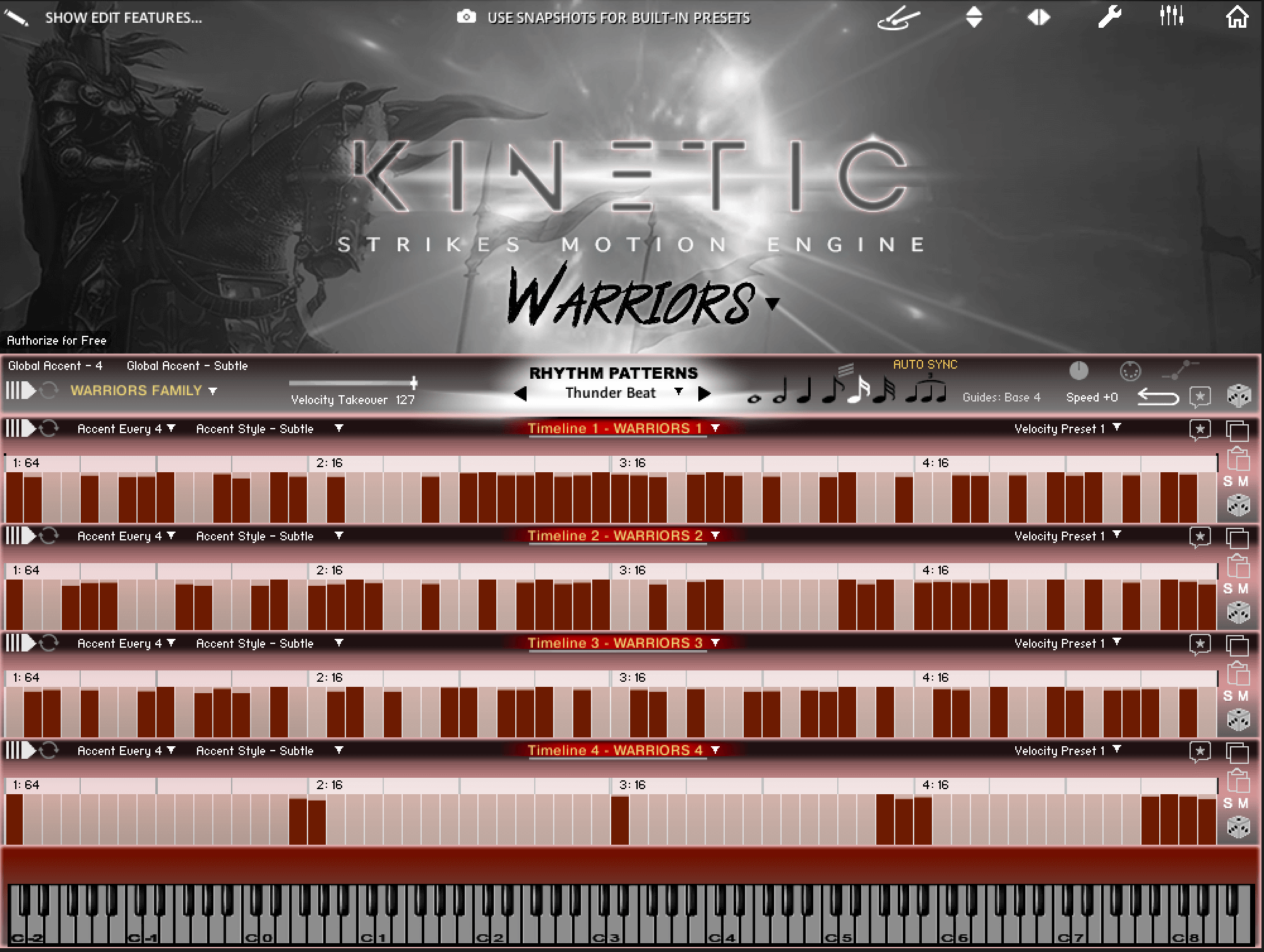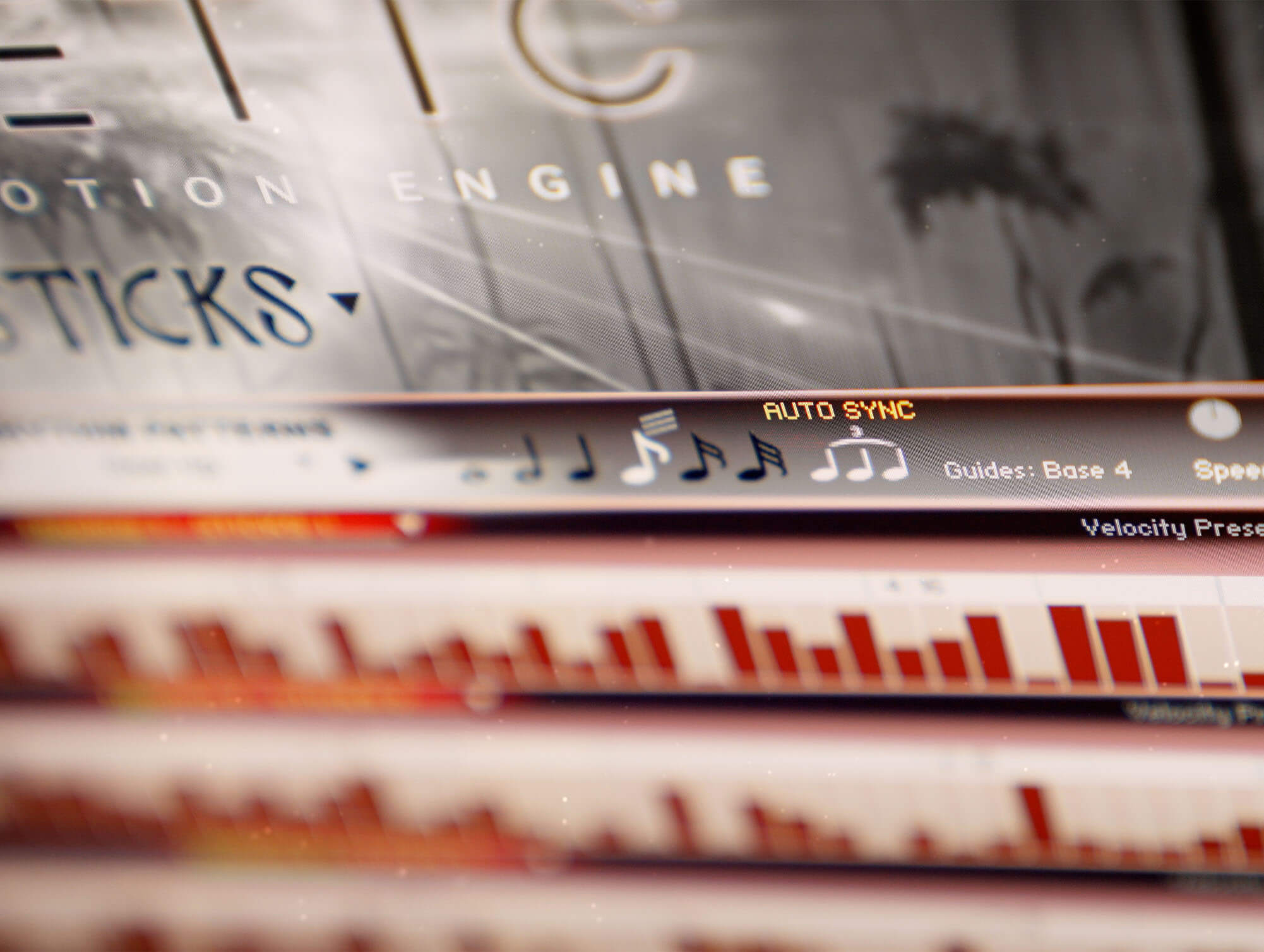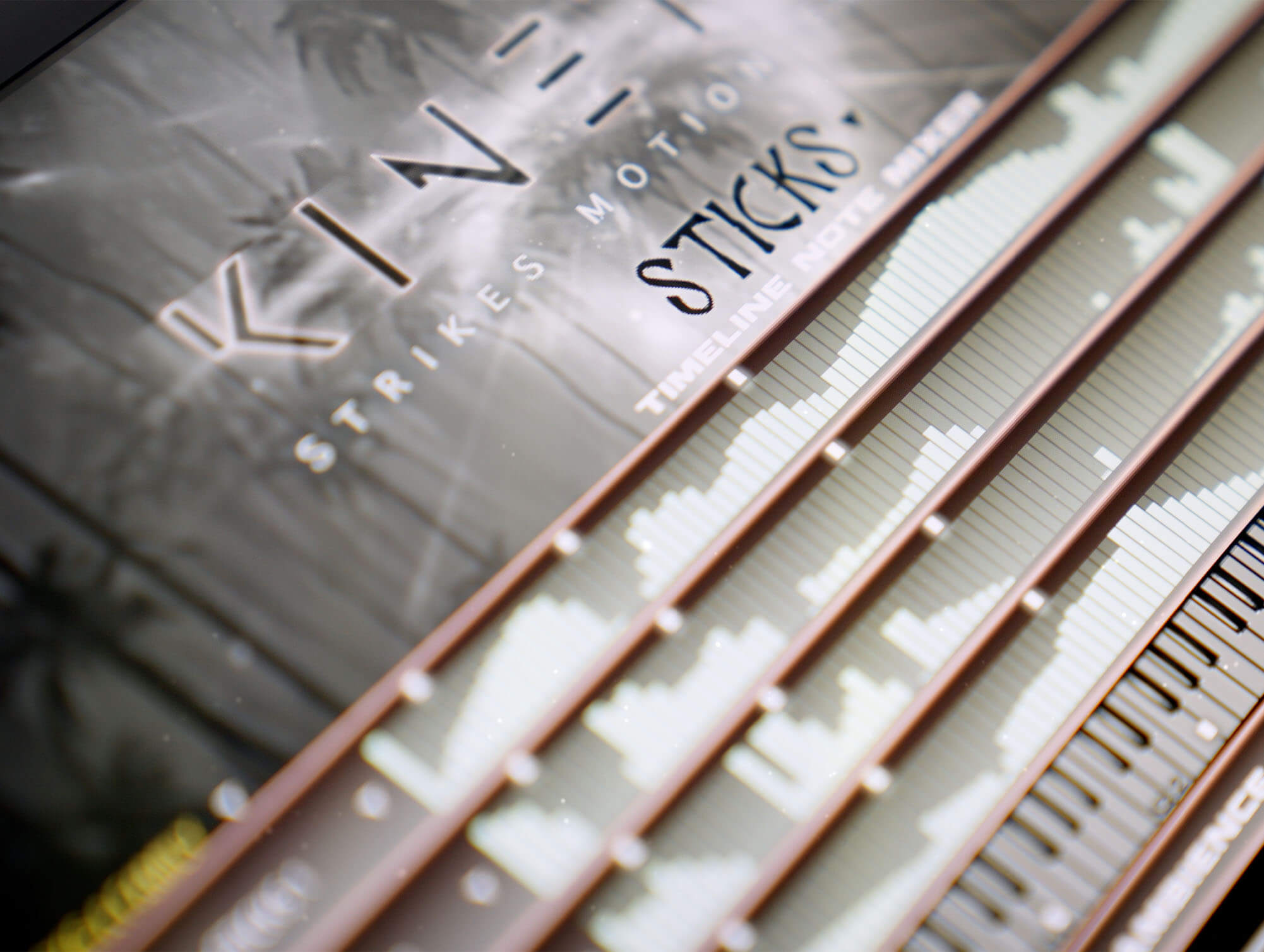 The World's Most Flexible Percussion
28 Percussion Keymaps in ONE Instrument
Up to 7 Percussion "Themes" or "Families" in ONE Instruments
Instantly Create Sophisticated Percussion Cues with A Single Note or Chord
Added Presets, Multis and Snapshots for Ultimate Expression and Ease-of-Use
Bring Motion to Percussion With Unparalleled Ease
Bring Motion to Percussion With Unparalleled Ease
Dynamic Randomization with Instant Results
A Percussion Instrument Like No Other
Epic & Cinematic
Infinite Results
Instant Percussion Rhythms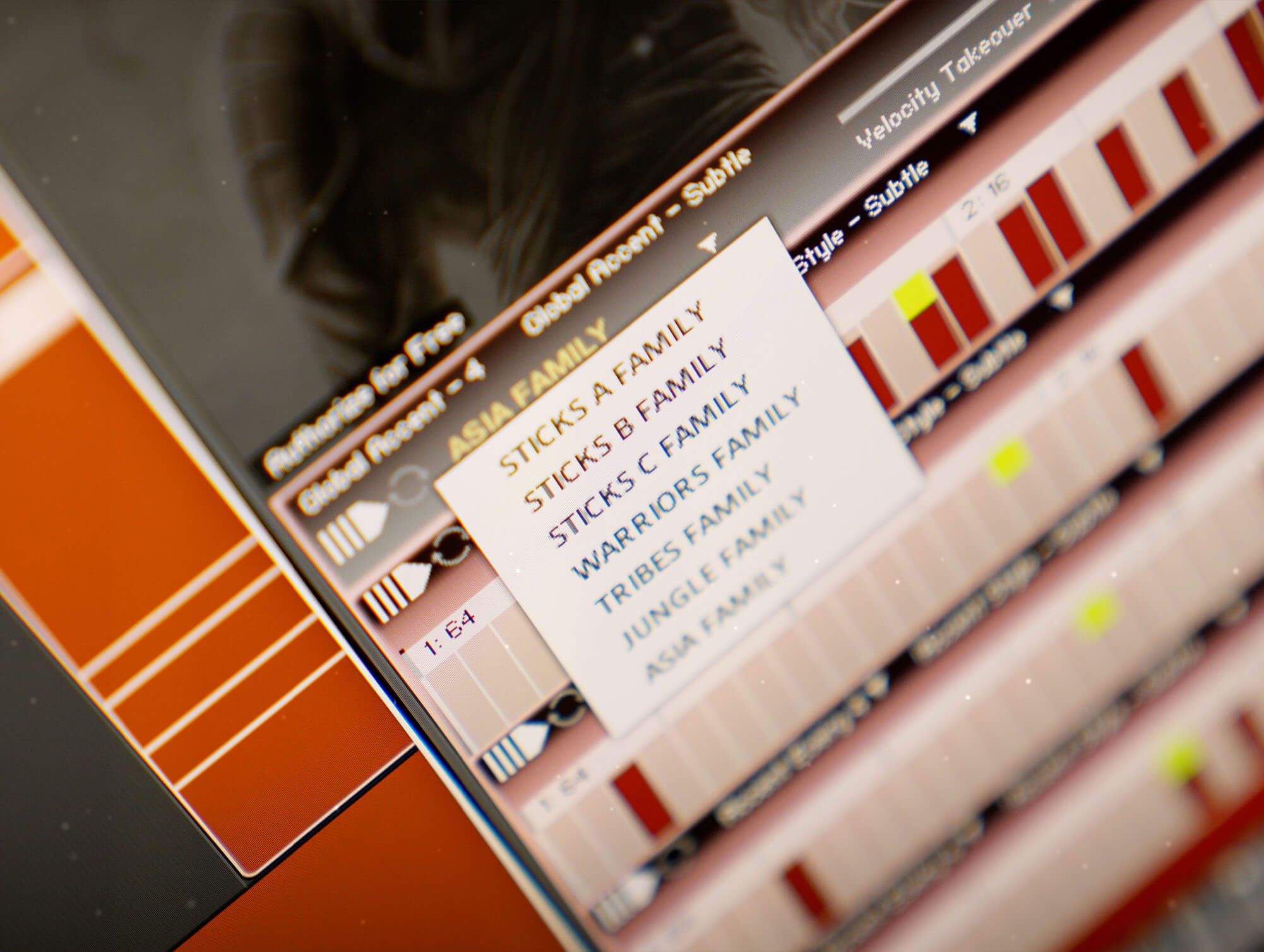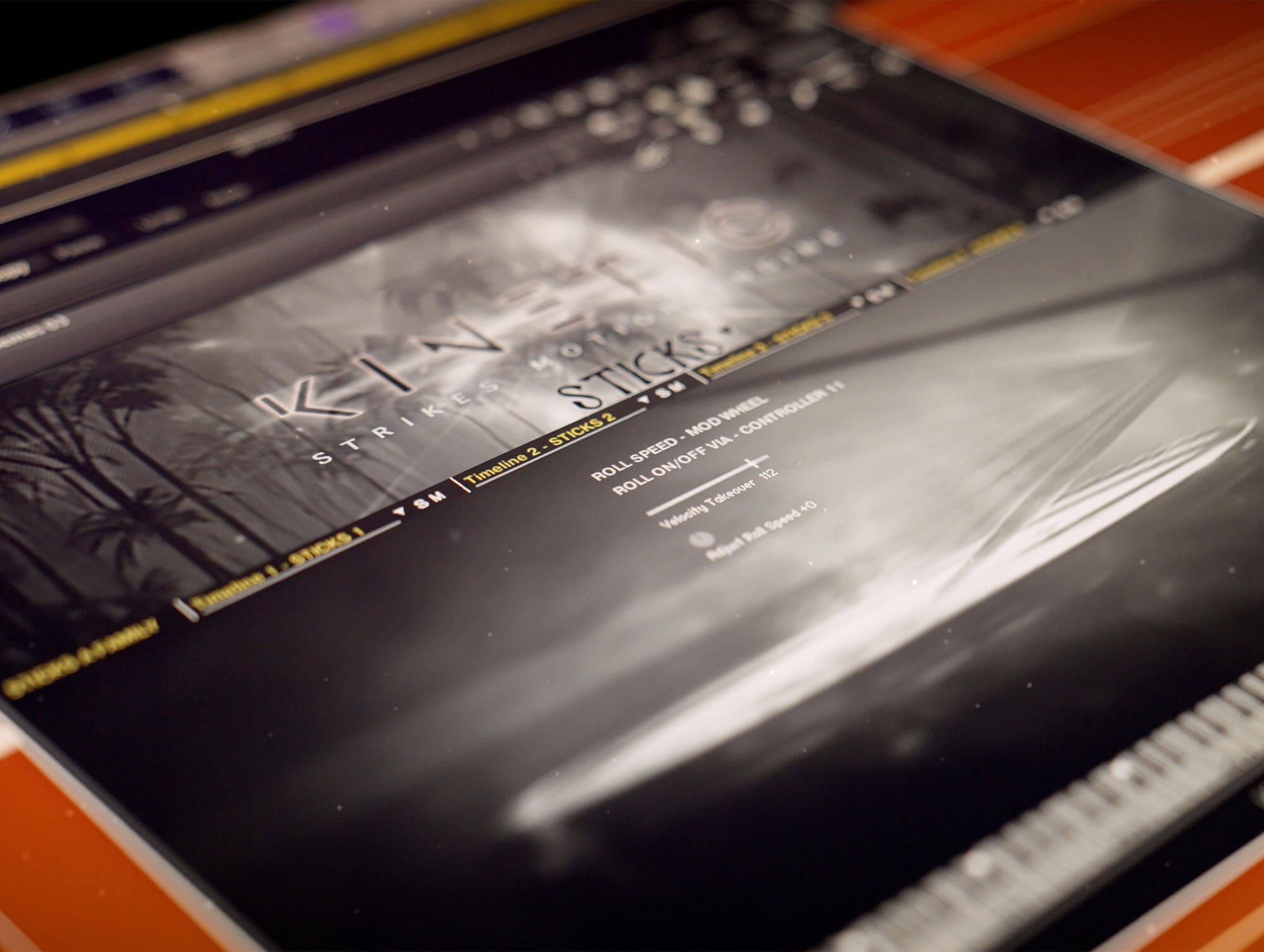 With Kinetic Percussion, you have a vast arsenal of percussion themes and keymaps at your fingertips! Up to 4 timelines where each timeline can have any one of 28 different percussion keymaps. Each timeline contains 64 note or rest events and can be divided into up to 4 "regions". And you can have each timeline play a different pattern whether you hold down a single note or chord!
Choose from 9 different non-pitched themes (or Marimba, Xylophone, Glockenspiel, Tympani "pitched" percussion), 40 fun-to-play rhythm presets and 16 useful velocity presets. And all of these are created to work really well together. And of course, any or all of these patterns can be edited. The possibilities are truly endless!
Assign accents which can be based on every 2, 3, 4 or 6 events. Or....create your own accents for any kind of vibe you want. Additionally, you can set whether the accents are subtle, moderate or dynamic.
Kinetic Percussion contains over 50,000 samples. And each keymap can be edited to move the samples anywhere on the keymap you wish.
4 Independent Timelines per Patch
64 Events per Timeline
9 Non-Pitched Percussion "Themes" or "Families" (Up to 7 per Patch)

Warriros
Sahara
Jungle
Tribes
Clan
Asia
Sticks A
Sticks B
Sticks C

4 Specially-Created Keymaps per "Theme" - 28 in Total!
Snapshots and Multis for Instant Gratification
4 Pitched Percussion Keymaps

Marimba
Xylophone
Glockenspiel
Tympani
For Each of the 4 Timelines:
64 Editable Note/Rest Events per Timeline
4 Regions per Timeline
Each region's length can be changed.
Regions can overlap.
Repetition On/Off
Region Cycling (Regions can cycle 1 through 4, or not at all.)
Theme Chooser
Accent Control (Accent every 2, 3, 4 or 6 events. Choose "Subtle, Moderate or Dynamic" accent style.)
Tighten/Broaden Notes
Playable Range Editor
Transpose (Pitch or MIDI change)
Copy/Past Regions
Solo/Mute Timeline
Randomize Repetitions
Select Built-In Popular Rhythms
Select Built-In Velocity Patterns
Select from 30 Presets
Home Page:
Repetitions On/Off
Event Editing - Velocity now added to event editing.
Theme Chooser
Keymap Chooser
Velocity Control
Accents
View Grid (base 3 or base 4 for easy editing)
Event Resolution (Whole, Half, Quarter, 8th, 16th, 32nd Duration per Event or tremolo)
Triplet Function (On/Off, and Edit Triplet's Playable Range)
Select from 40 Global Rhythm Presets
Speed Control
Randomize all Timelines
Solo/Mute Timelines
MIDI Record and Drag-and-Drop
Reset Everything to Default
Copy/Paste Region Events
Mixer Page:
Theme Chooser
Keymap Choosers
Timeline Note Volume
EQ
Velocity Takeover (During playback, you can "grab" the current velocity and "take over".)
Velocity Sensitivity
Velocity Variation
Velocity-Controlled Warm/Bright Control
Microphone Mixer
Presets for Microphone and Reverb Settings
Section Mixer for timelines (Level, Pan, Purge)
3 Exciters
"Torture" samples that add that "destruction" sound.
Build Page - Edit Keymaps:
Move any percussion sound to any note on the keymap
Spread a single percussion sound across the entire keymap
Panning Page:
Pan any of each timeline's 64 events for really interesting effects
Copy and paste panning events.
Transpose Page:
Transpose (pitch or MIDI) any of each timeline's 64 events for really interesting effects
Copy and paste transpose events.
Roll Page:
Instantly create a roll from any or all of the timeline's you're currently using
Change the roll speed in real time
Adjust the roll speed in real time
The FULL VERSION of Kontakt 6.6.1 or newer. (Instruments WILL load with version 5.7.1, but snapshots will not.) This will only run in DEMO mode if you load into the free player version of Kontakt.
12GB download size, 14GB after extraction.
Mac OSX 10.9 or newer, Intel Core 2 Duo, 4 GB RAM, although 6 or more is recommended.
Windows 7 or newer, Intel Core 2 Duo or AMD Athlon 64 X2, 4 GB RAM, although 6 or more is recommended.
If you see a customer full unlock file, you can ignore it. We decided to pre-unlock your library for you.