Spotlight Strings 4d Videos
INTERFACE SCREENSHOTS & DEMO TRACKS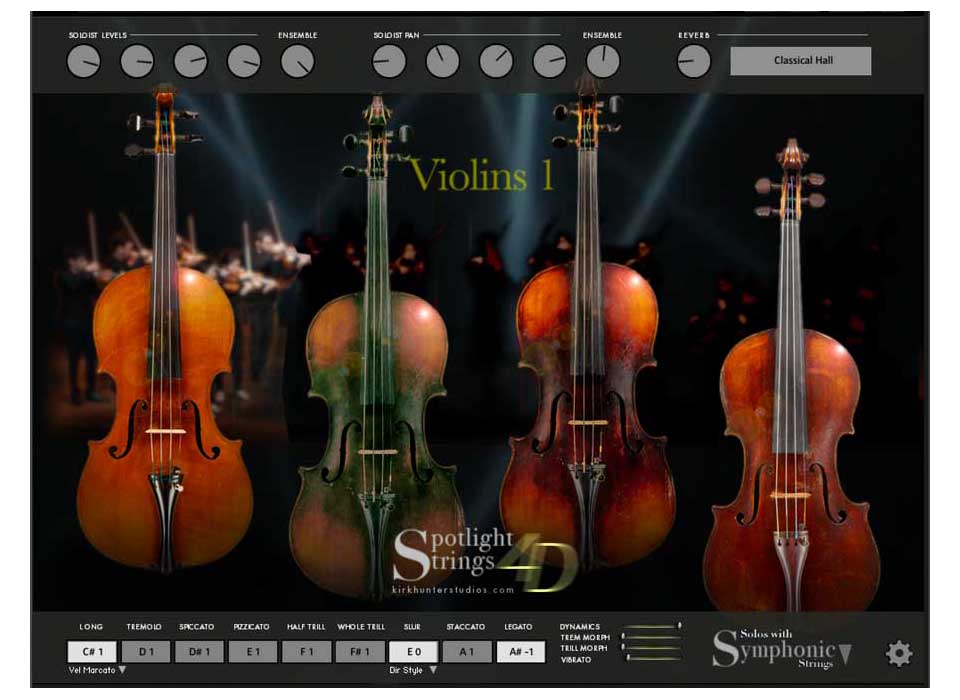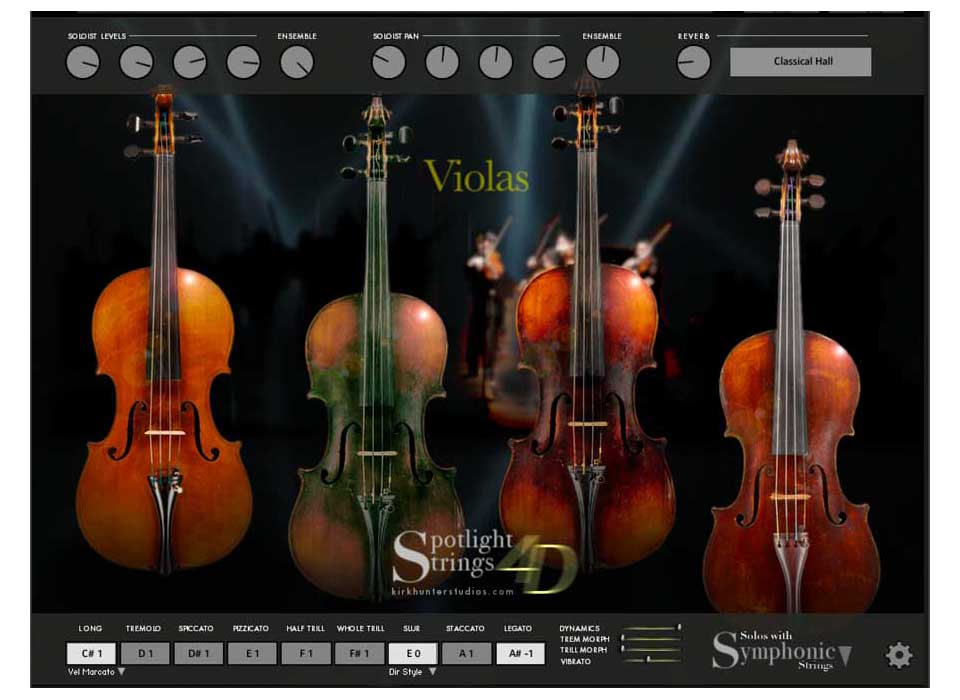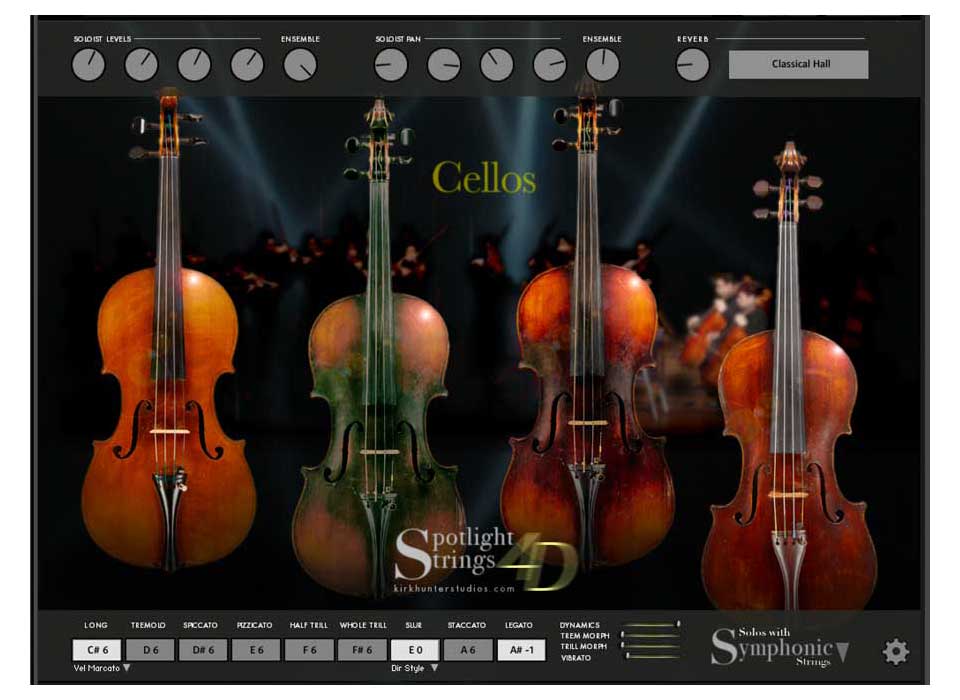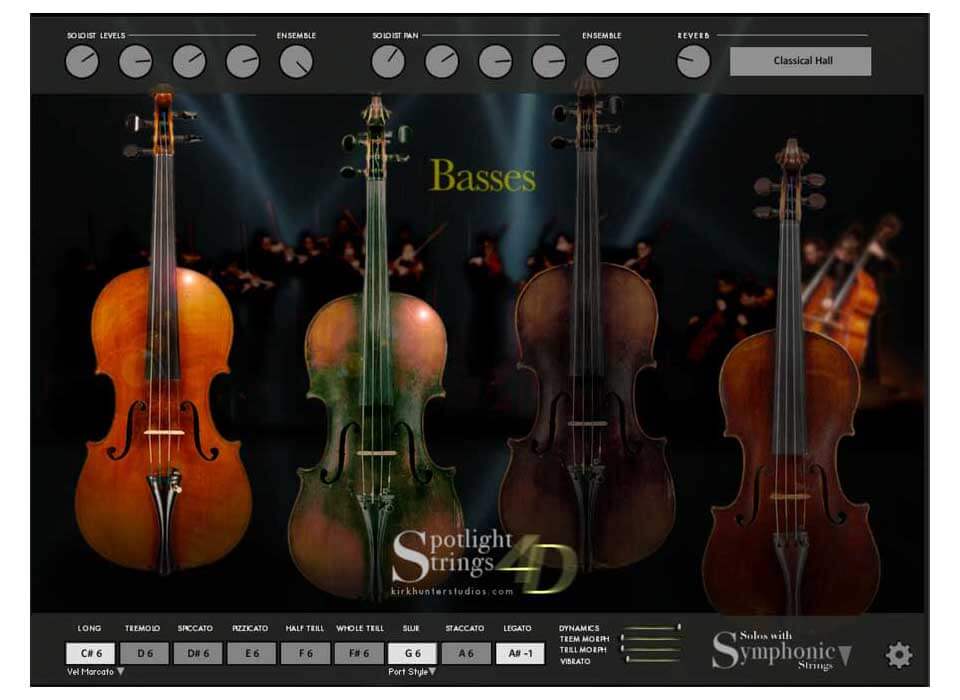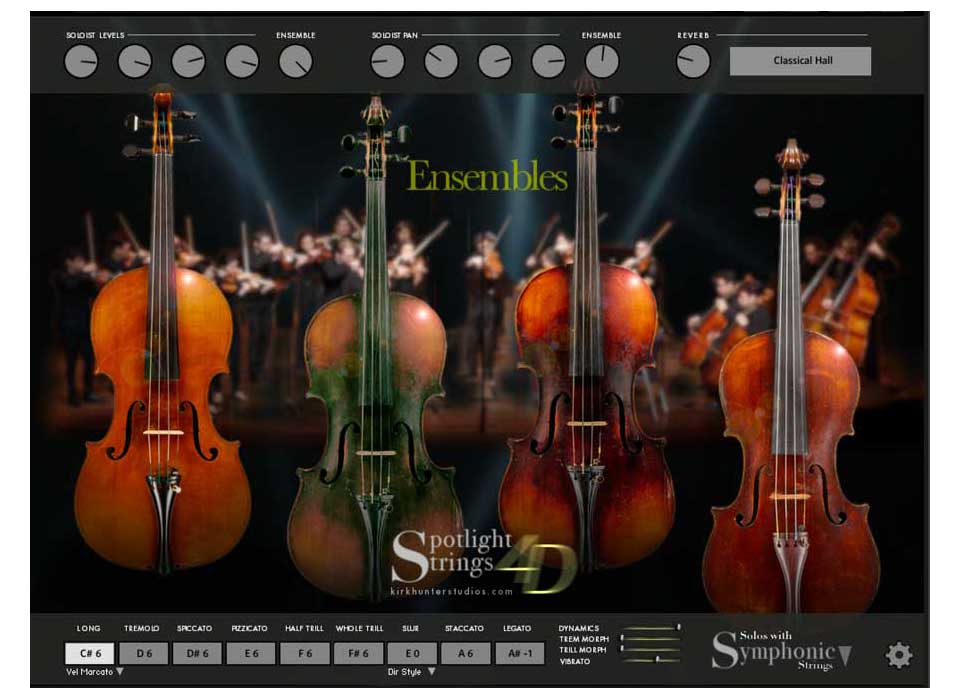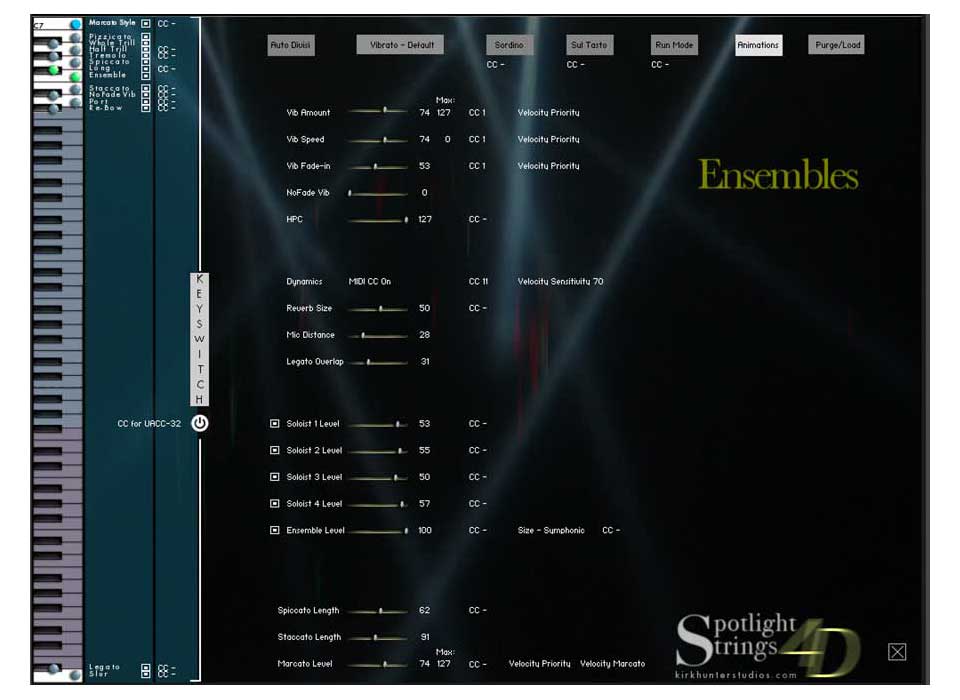 Four Section sizes in a SINGLE instrument
1. Solos 4 independently-mixable soloists per instrument. Layering up to 4 soloists over an ensemble provides depth and realism. And the vibrato and dynamic control of these soloists is like none other out there.
2. Chamber Ensemble 4 Violins 4 Violas 3 Cellos 2 Double Basses
3. Studio Ensemble 8 Violins 6 Violas 6 Cellos 3 Double Basses
4. Symphonic Ensemble 16 Violins 12 Violas 12 Cellos 6 Basses
Unprecedented Playability
Spotlight 4D was programmed to follow your playing style intuitively. No need for excessive keyswitching and feature changes. Simply put, it's fun to play.
Modern, easy-to-use interface The learning curve for Spotlight 4D is incredible easy.
Articulation Morphing Morphing and blending in and out between "longs", tremolos, and trills can create truly interesting and inspirational phrases.
Customizable Control Despite Spotlight 4D's easy-to-use interface, you still get all of the deep-level control you need. Almost every feature and articulation can be assigned to a controller or keyswitch.
DIFFERENCES BETWEEN SPOTLIGHT SOLO STRINGS AND SPOTLIGHT STRINGS 4D
added new "long" samples for 1st violins and cellos
added new spiccato samples for 1st violins and cellos
More enjoyable playability, out of the box.
Intuitive expression so you don't have to "ride" vibrato and expression controllers.
Human sensing - If you play notes short, then the instrument will respond crisply. If you play long, the instrument will respond in a more connected manner.
More "intimate" sound if required.
Easier interface.
Overall sound is much more "open" and "shimmering".
Legato feels much more fluid.
New "Priority" parameters available. (For vibrato amount, vibrato speed, vibrato fade-in time, and Marcato level.) With this feature, you can select Velocity Priority, Slider Priority or CC Priority. So, for example, if you choose Velocity Priority, the feature will follow your playing style where velocity is concerned. However, if you should access the slider or CC while holding a note, it will softly take over. This feature makes playability much more flexible.
In "Velocity Priority" mode, you can set a maximum for limiting vibrato amount and marcato level.
Vibrato controls are much more intuitive - the best in the industry.
For the Ripieno groups, there is a deeper, more lush vibrato available.
New "Vibrato Now" feature that, when engaged, lets you have the soloists play an instant vibrato with no vibrato fade for added emphasis and reality.
Ripieno (now called "ensemble") level and pan is now available.
Dynamics are more deep
A new "Run Mode" feature that automatically senses if you are playing fast runs or arpeggios, and engages specially-programmed groups.
User-settings are automatically saved - no need to save the instrument to preserve your settings.
Articulation changes can now be automated via standard UACC settings. Long - 0 Tremolo - 11 Spiccato - 42 Pizzicato - 56 Half Trills - 70 Whole Trills - 71
Tremolos and trills can be crossfaded with the "Normal Bow (Arco)" articulation.
HPC adjustable for solos
Portamento now works on all articulations, even pizzicato.
More IR spaces.
Microphone distance is now available.
The Key Features of Spotlight 4D
Morph long (sustained) articulations with trills and tremolos. Create truly interesting effects by fading in/out trills, tremolos and long notes.
All-In-One Instruments. No more hunting around to load the right patch.
Legato with Chords. No more switching back and forth between "legato" and "polyphonic" just to play chords.
The legato is programmed to be consistent with true legato. Additionally, you can choose "bowed", "slurred" or "portamento" during legato mode.
Unrivaled Vibrato Control for Solos. Vibrato amount, speed, fade-in time, and "instant" vibrato controls.
Articulations switched by keyswitch or UACC (universal articulation continuous control). If UACC is chosen, your cue will automatically "chase" the articulation so that you don't have to worry if the right articulation is happening wherever you start the cue.
Senses whether you are playing "staccato" or "connected" without needing additional control.
Create any length staccato from any sustained articulation
Total attack strength control. Control the attack by velocity, interface slider or MIDI CC
Dynamic control by velocity, MIDI CC or both.
Microphone perspective
Run Mode. Select a special "Run Mode" feature that makes playing fast runs much more realistic.
Sordini emulation
Purge. Purge articulations that you do not need.
Auto Divisi. Automatically detects and executes the ensemble size needed for a chord or unison.
System Requirements
Full retail version of Kontakt, version 5.7.1 or higher. Will NOT work in the free Kontakt Player! You do not need a serial number and will not need to use the "Manage Libraries" feature. A short video showing how to load an instrument can be found at https://www.kirkhunterstudios.com/spotlight_beta/opening_spotlight4d.mp4
Mac OS X 10.11, i5, 4 GB RAM (i7 - This library requires a robust CPU), 8 GB recommended)
Windows 7, 8, 10, Intel Core i5 or equivalent CPU, 4 GB RAM (i7 - This library requires a robust CPU, 8 GB recommended)
10 GB free disk space for sample content
Compatibility
Kontakt Stand-alone
VST
(AU)) Audio Units
AAX 
CLICK HERE TO DOWNLOAD ONLINE TUTORIAL (PDF)
Make sure that you have 20GB free space where you download the provided .rar files. The space is needed for both the .rar files, AND the extracted files which will be explained later.
Spotlight 4D Installation - Mac (Using UnRarX)
Download all .rar files from your download list.

By defaualt, you will need to download the .rar files manually.

 

IMPORTANT:

 

Make sure that all of the .rar files are exactly the same size except the last one.

 

If this is not the case, then some kind of error has occurred during the download process.

Now, if you don't already have UnRarX installed on your Mac, it is included in your download list.

Place the UnRarX application into your Applications folder.

Now, navigate back where you downloaded all of the Spotlight 4D .rar files.

 

Right-click the first file "Spotlight_Strings_4D.part01.rar".

 

Then choose "Open With" and then select UnRarX.

The files will now automatically start extracting the entire Spotlight 4D Library.

PLEASE NOTE: At the end of extraction, you should receive the message "All OK" from UnRarX.

 

If not, then it is likely that an error occurred during the download of the .rar files.

Once the extraction is complete, your Spotlight 4D Library folder will be located inside the same folder where your Spotlight 4D .rar files are.

You can move your library anywhere you wish.

 

Save the .rar files in the event of losing your extracted library.

If, for some reason, the UnRarX application does not work, try the Keka or UnArchiver apps that are on your download list.
Spotlight 4D Installation - Windows (Using WinRar)
Download all .rar files from your download list.
If you have WinRar, from your windows explorer, navigate to the first .rar file.
Then, right-click it, and choose "Extract Here":
WinRar will then prompt you:
Choose "Yes to All"
Installation of Spotlight 4D for Windows OS without WinRar
Download all .rar files from your download list.
You will need the 7-Zip application which is included in your download list. Make sure you choose the correct version for your system whether 32 bit or 64 bit.

32 bit - 7z1602.exe
64 bit - 7z1602-x64.exe

Once you've installed 7-Zip, right-click the first .rar file. Choose to extract the files from the 7-Zip menu item. Note that you only have to choose the first .rar file, and the full library will extract automatically.