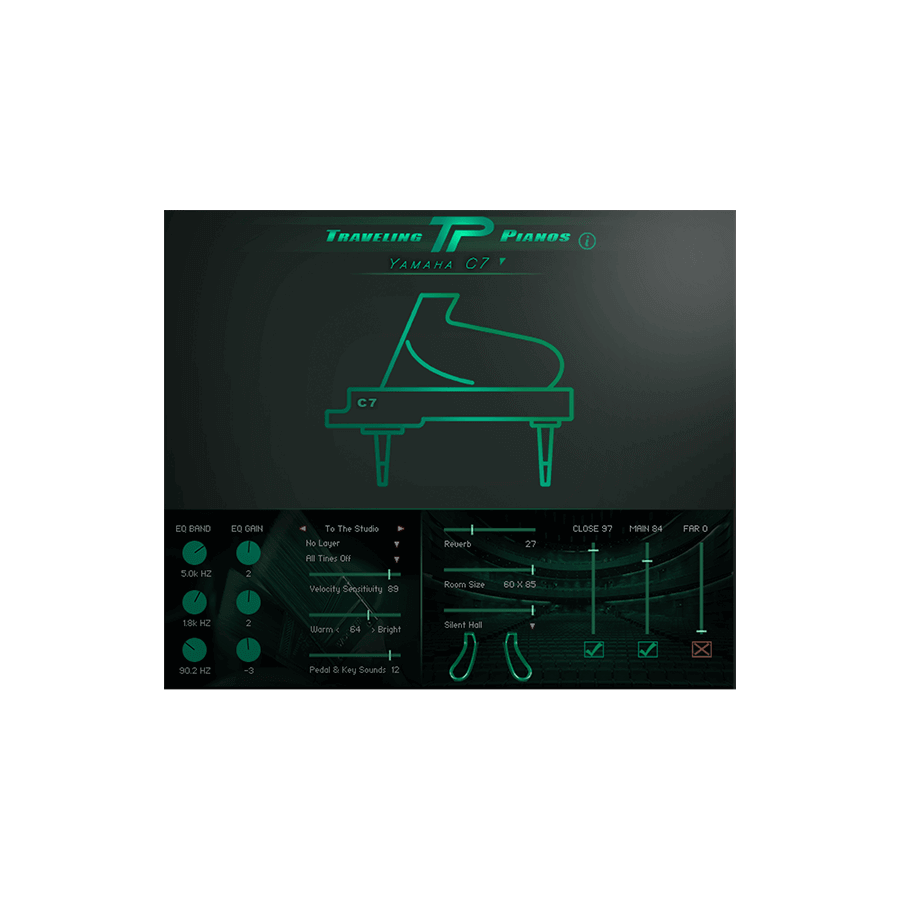 INTERFACE SCREENSHOTS & DEMO TRACKS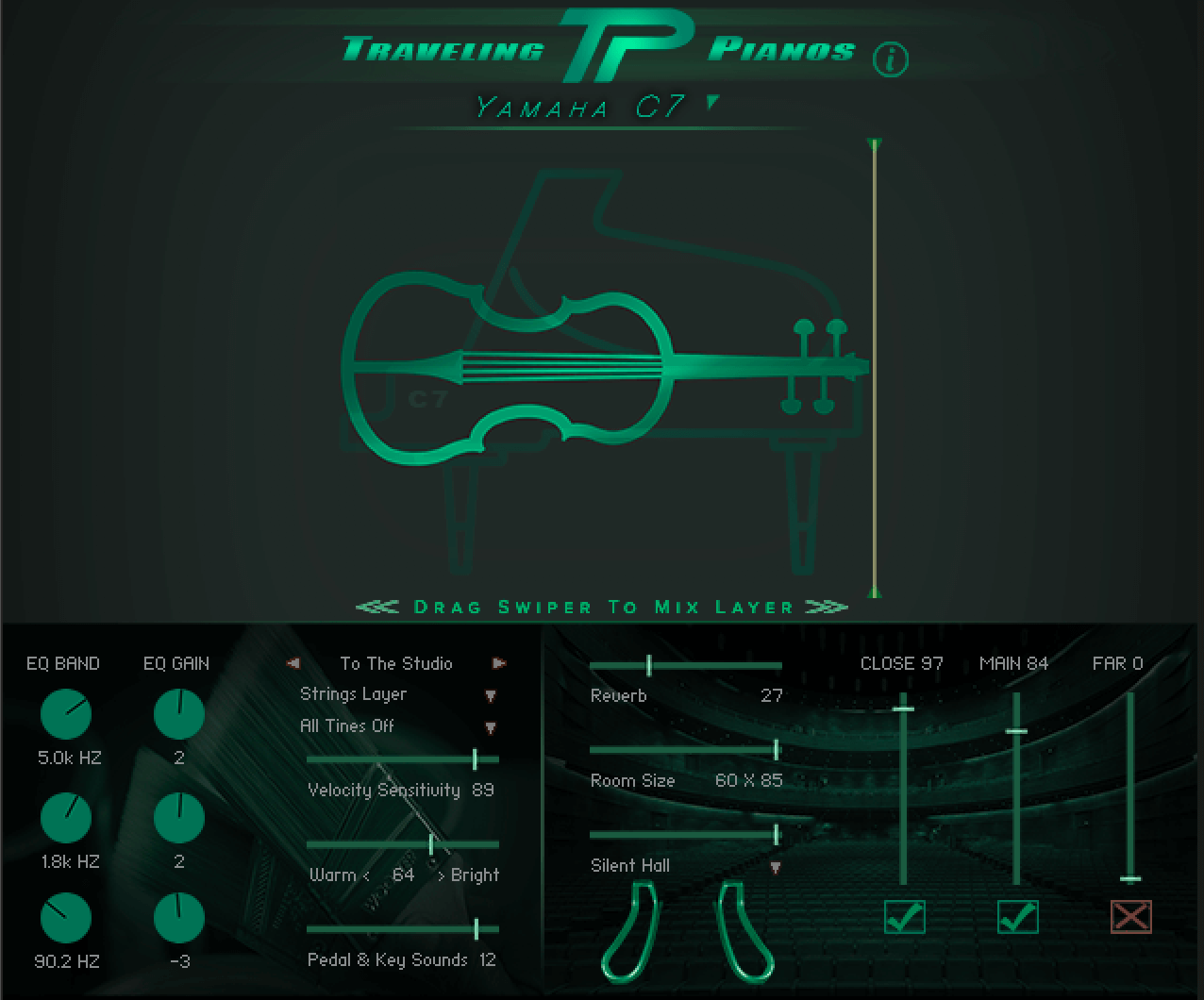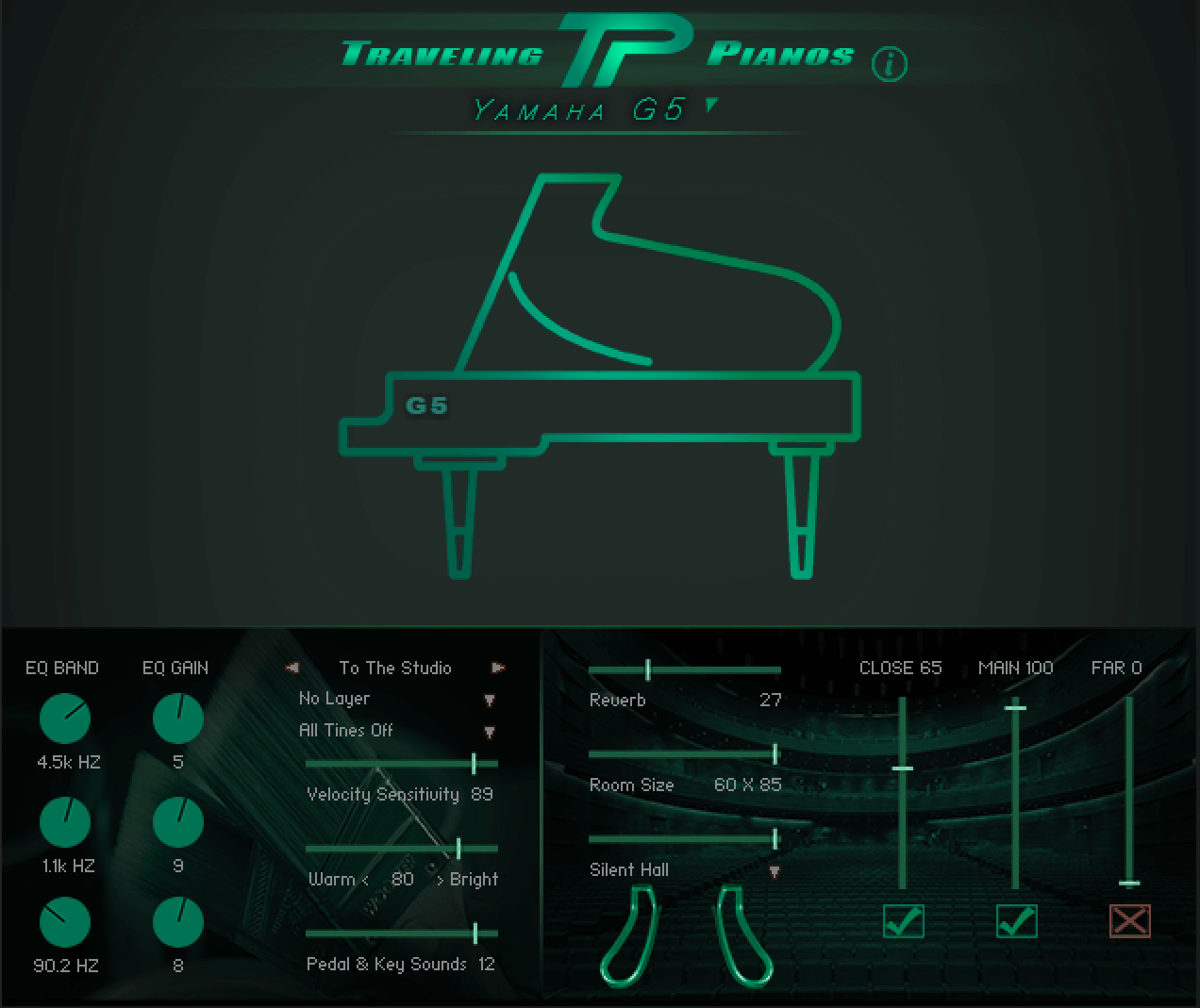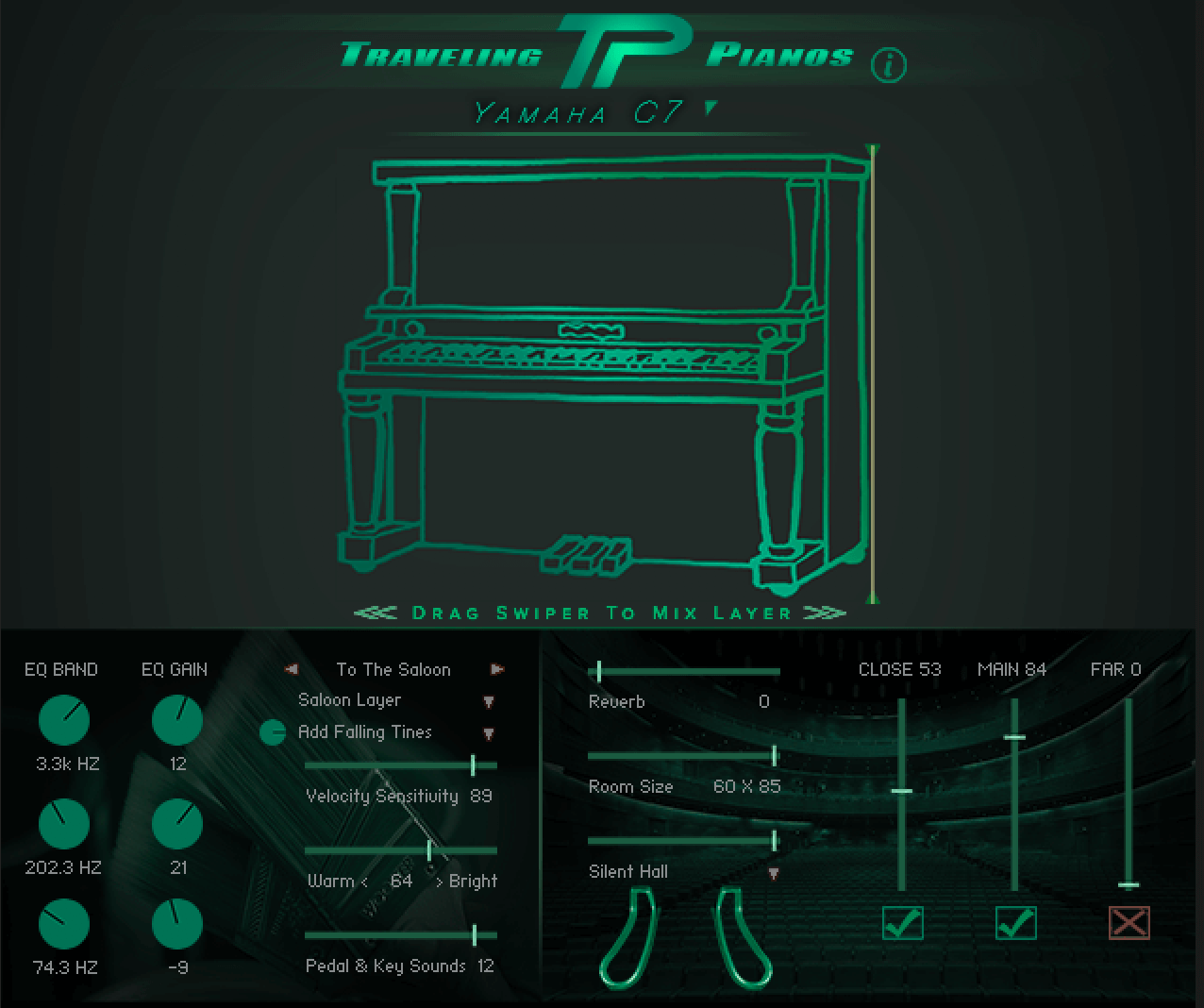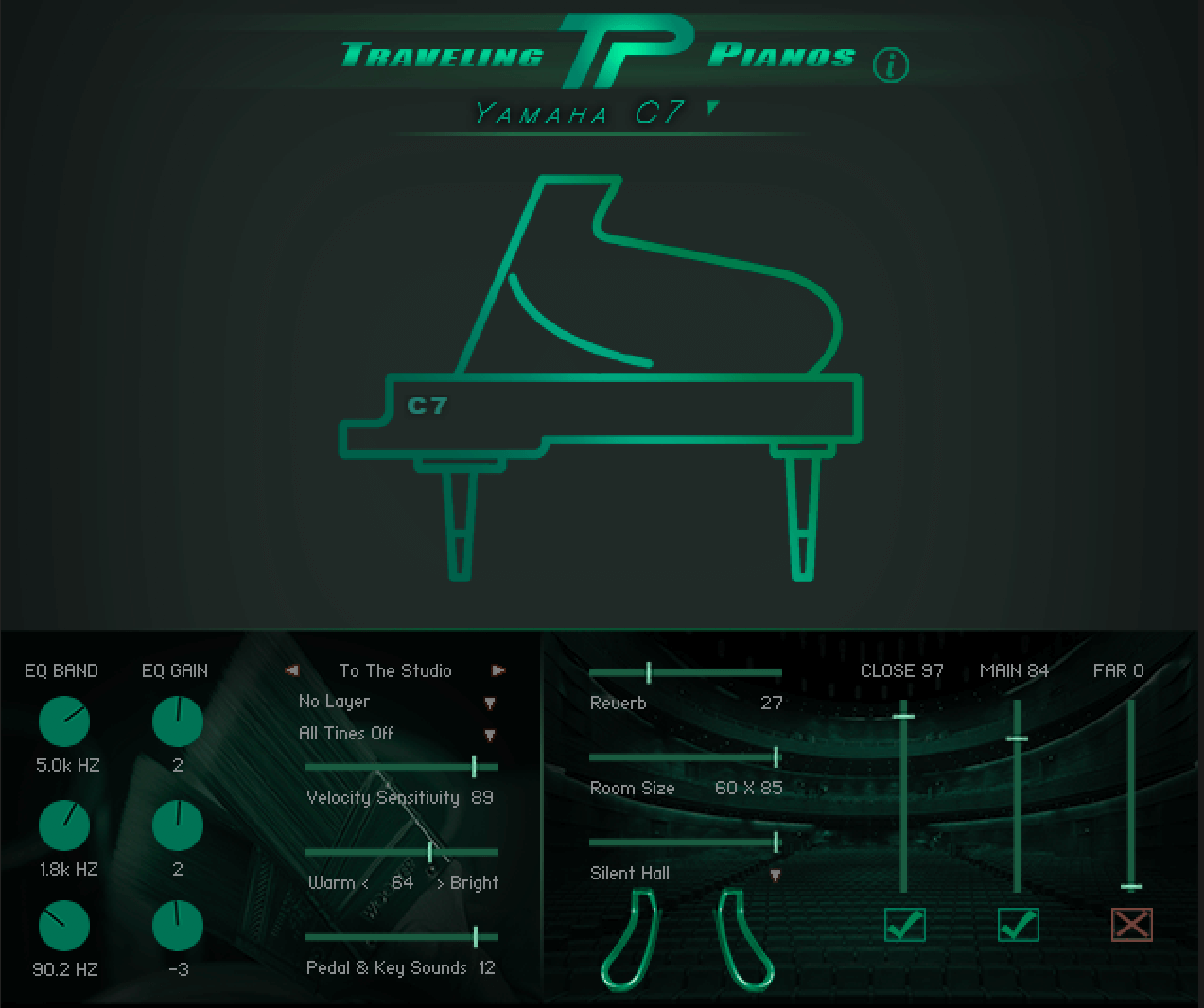 TWO BEAUTIFUL YAMAHA PIANOS
Kirk Hunter's own Yamaha G5 for a clear, pristine, yet powerful sound. 
Michael Lehmann-Boddicker's Yamaha C7 engineered by Michael himself, and played by Kirk.  This piano has been a workhorse for many A-list performers, and can now be YOURS!
FLEXIBILITY
Numerous presets that will enable you to "travel" in both time and style with a single click.
Numerous multis combining both pianos which create "fat" and sophisticated sound pallets.
Three mic positions for both pianos.
Includes true samples for both sustain pedal up and down.
Sustain and Una Corda pedal features with controllable "body" sounds.
Mixable Strings layer that add gorgeous texture and "padding".
Mixable "Saloon" layer that provides an "old timey", "honky tonk" feel.
Velocity-controlled, and mixable "Tines" feature that add a metallic attack at the beginning of each note.
Room size and amount - Our room, which is both convolution AND reverb based, has been specially-designed to provide a truly "concert hall" sound.
Available room ambience and/or audience sounds can be added to provide a very realistic setting.
AND EVERYTHING LOADS IN SECONDS!
What inspired you to develop Traveling Pianos?
During the 2020 COVID-19 lockdown in Los Angeles, it was almost impossible to get recording artists to the studio to record our then-planned new libraries.  So the only options to create something new would be creating something from recordings that I, alone, could do.  And those options were either a new solo strings library (which I was NOT in the mood to do after the release of Lyric Series Strings Quintet), or to record my beautiful Yamaha G5 grand piano.  And my good friend John Walz (principal cellist - LA Opera) told me that the room where the piano sits has a wonderful sound with great acoustics!
 I knew that there were already so many great piano libraries out there, and also knew that it could be difficult to compete.  But, it was my only viable choice at the time.  So after a few "dry runs" at it, I sent a trial, "bare bones" version to a few professionals I know.  To my surprise, all responded quite favorably, and added that I should do it "for real".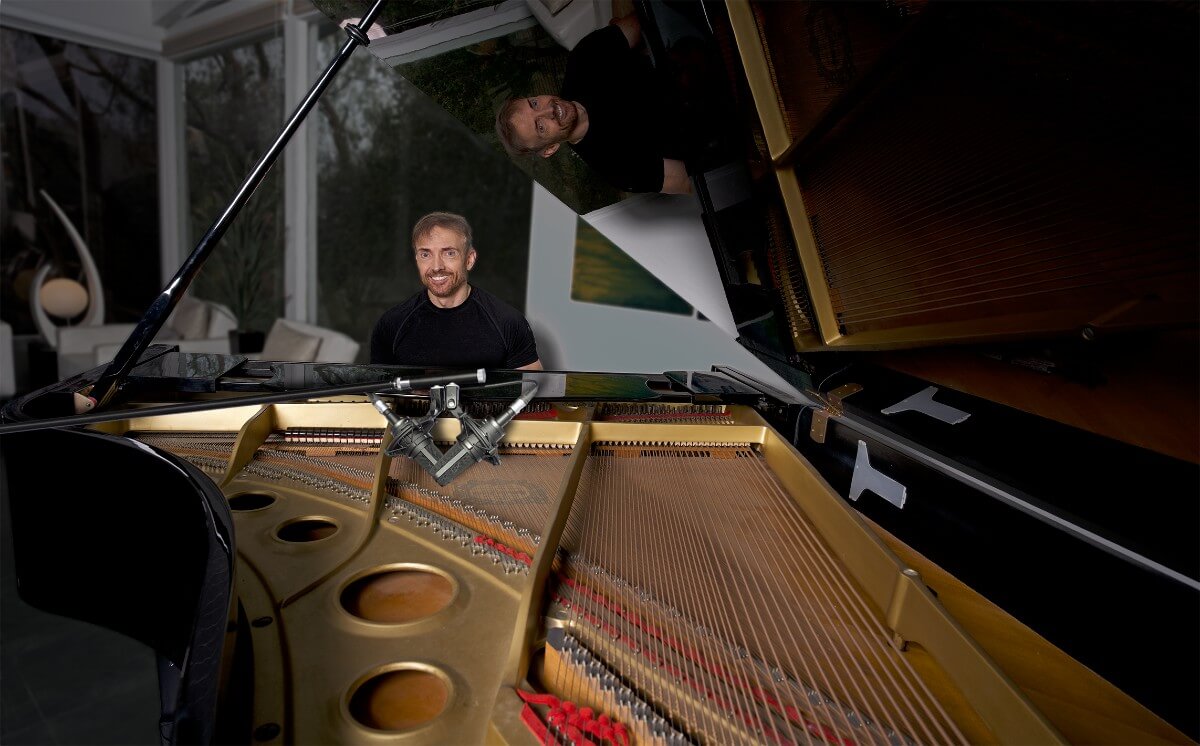 ---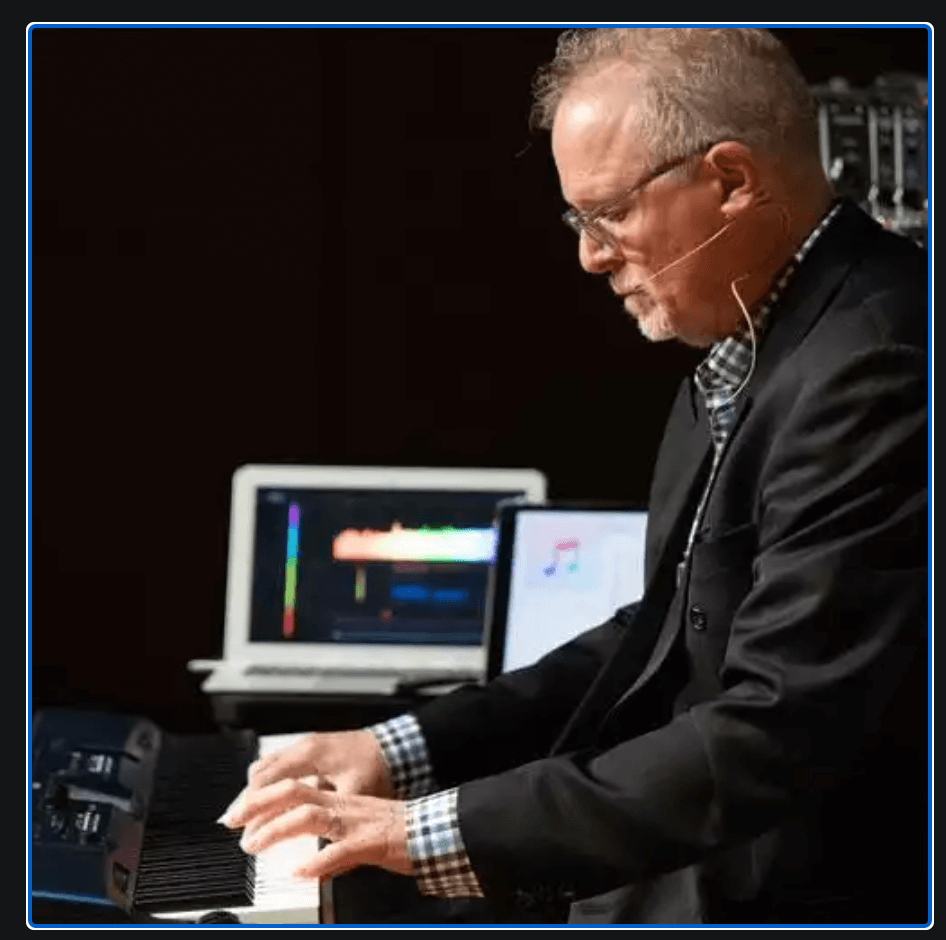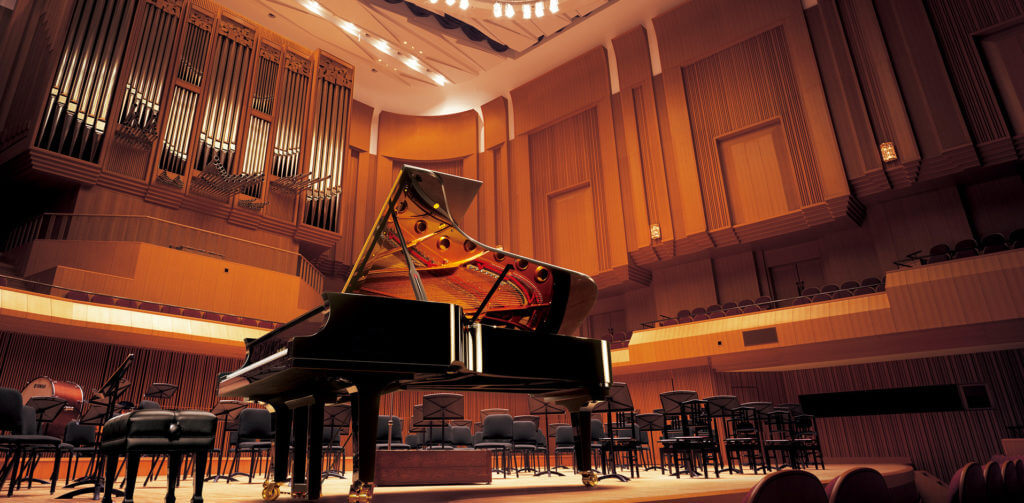 I see that Traveling Pianos features an additional Yamaha C7 as its default, not the G5.
After doing that "dry run" version, I wondered if I should try to do a bigger, more "industry-popular" piano.  Then I remembered my friend Michael Lehmann-Boddicker had a C7 at his studio.  I contacted him about checking it out.  (After all, not all C7 pianos sound the same - I've heard some real "duds" out there!)  It only took a minute of playing that thing to realize just how special it was!  It really had that thunderous low end without losing any "sparkle" throughout the entire range.  And as an added bonus, Michael happened to have had a Disklavier setup there.  That would make recording different velocities much easier.  
Why is it called Traveling Pianos?
The quality of that C7 piano evokes the feeling of "traveling" though time; successfully covering many different musical styles.  And since so many different artists have put "hands to keys" on it, it's like it has "traveled" to and from these special performers.  And now, as the "Traveling Pianos" sample library, it can quite literally "travel" to YOU.
How does Traveling Pianos stand out?
Firstly, it just SOUNDS amazing out of the box.  Having compared it to almost every other popular piano library out there, it definitely has a sound like no other.  This is true of both the C7 and the G5.  One of my beta testers said that he could play classical, jazz and pop without changing a thing.
Secondly, the sample footprint is wonderfully low without losing the full range of dynamics whatsoever.  Both pianos load TOGETHER in SECONDS.
Thirdly, we have created over 20 creative built-in presets.  And you can customize and change any of these presets via EQ, 3 Mic positions, reverb amount, room size, added tines, string and saloon (honky tonk) layers. 
And Fourthly, we have created multis that stack both pianos on top of each other.  Both pianos are tuned so precisely that layering them together became feasible.  And with the addition of string, saloon, and tine layers, the creative possibilities are endless.
---
How was TP recorded?
YAMAHA C7:
CLOSE MICS:
1975 AKG 414s w C12 capsules refurbed by Bob Katz direct wire (no patch bays) to original Neve1073's mounted by Brent Averill.
Bass strings @9" above where strings cross in center of harp.
Treble strings @9" above where the harp separates extreme high strings from mid high strings.
MAIN MICS:
1987 Neumann U-87's (never used before 2018 - new old stock) modified by Stephen Paul in 1987 and further modified by Toby Foster in 2018.
Direct wire through Neumann v476b at edge of piano at ear height.
FAR MICS:
Aspen Pittman GT44's through V476b's - spread 14'apart, 14' back and 14' up point up  and toward piano.
All mics in omni mode except the ribbons which are figure 8 facing towrd piano and back of room.
Disklavier:  (Used to make sure all velocities were consistent)
1987 Yamaha C7f 7'6" Disklavier voicing and tuning by Jim Wilson LA Piano Service and Disklavier services by Yamaha USA and Peter White/Mark Hulibarger. Original piano setup by Hope Morrow.
"I used to use Matt Hyde type mic-ing in cardiod right over the hammers at 6" up facing toward pins for that very bright David Foster Pop punch through a track in pretty extreme stereo. Now I much prefer a combo of the fullness of the mid/low string crossing balanced with upper harmonics & resonance  over the high strings including or maybe especially the undamped extreme high strings. There's a rich life and natural warmth to those harmonics.
The edge mic-ing technique I got from James Horner and  his engineers Simon Rhodes and orchestrator Simon Franglen who  essentially put the mics where vocal soloist would stand in the 'crook' of the piano. The room sounds big with a natural decay because of the perfect dimensions by Carl Yanchar and walnut floor with acoustic damping & diffusion only on the 6' and under plane.
The 'omni only' approach came from my dear friend Aspen Pittman (Founder Groove Tubes and Aspen & Associates) whose opinion was that ALL mics behave better in omni - patterns are brought about by introducing electronics/phase manipulation.  I listened and agreed and have never gone back except when trying to isolate say an acoustic guitar from a voice or overhead drums from a kick pedal.
I just put my head inside the piano and listen for the sweet spot, stand at the edge and listen for the sweet spot and then listen to where the room wants to give back the best ambience. Simple really."
-Michael Lehmann Boddicker
 
YAMAHA G5:
CLOSE MICS:
Audio-Technica AT4050s.
"X-Y" array @8" above center of harp.
MAIN MICS:
Audio-Technica AT4033s
Placed at foot of piano body.
FAR MICS:
Cascade Fat Head IIs - spread 16' apart, 20' back and 12' up pointed toward piano.
What was your inspiration behind all the sound design style presets?
I wanted to offer something more than just the great-sounding pianos as they were out-of-the-box.  So I started by adding a cool "string" or "saloon" layer option.  I also customized the pianos themselves by focussing on different styles and placing them in different rooms.  It's almost as if you're "traveling" to these different spaces and styles.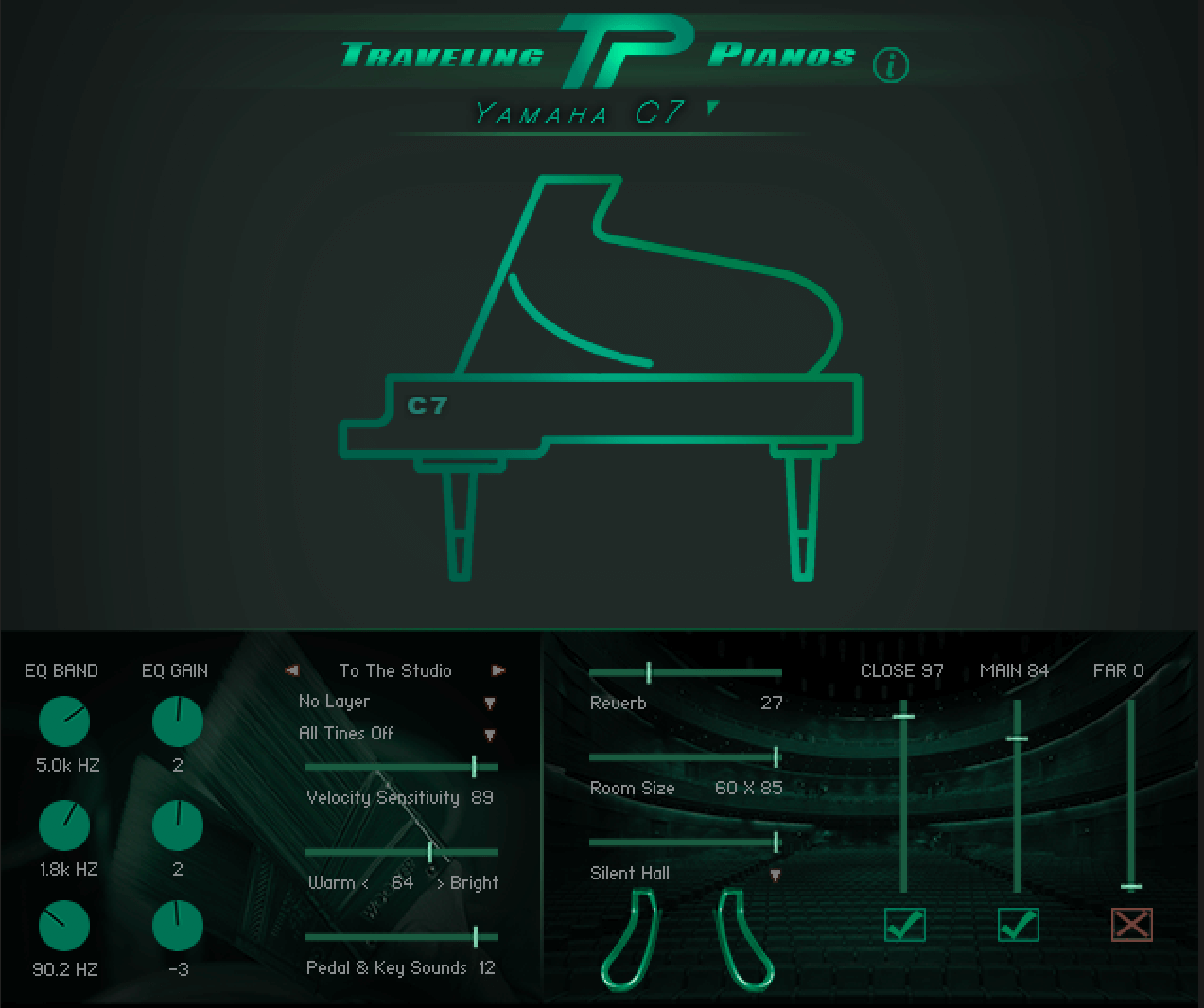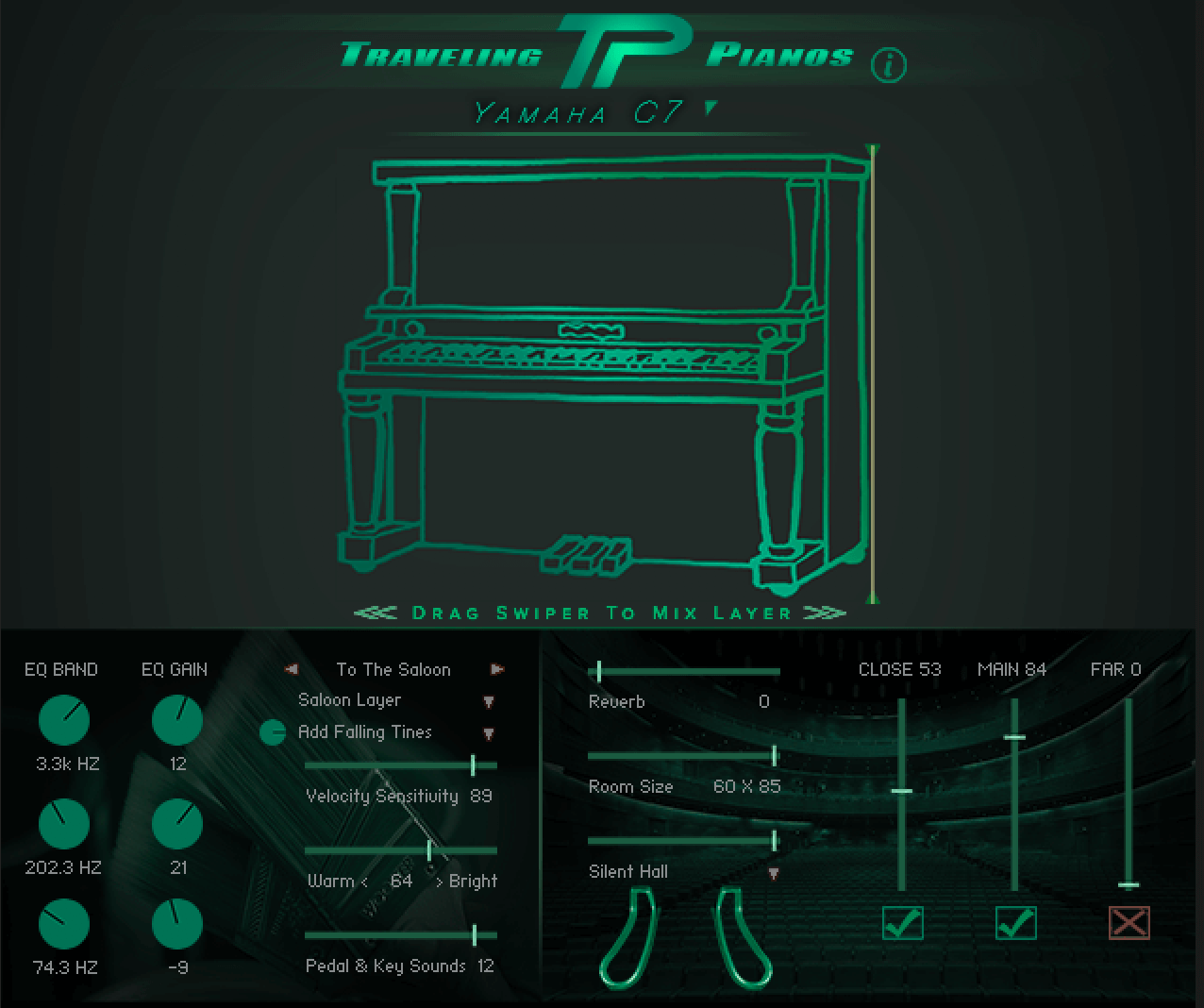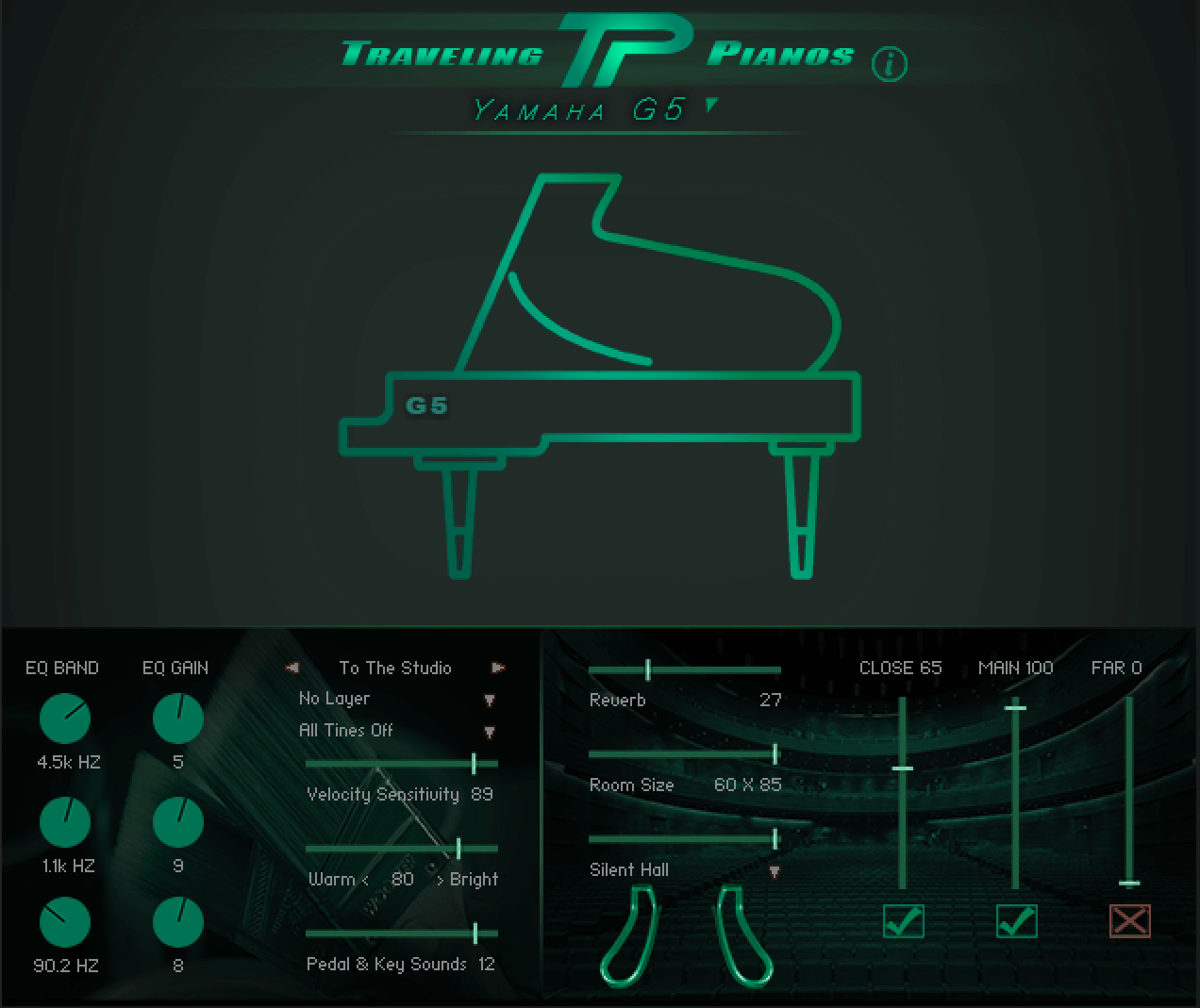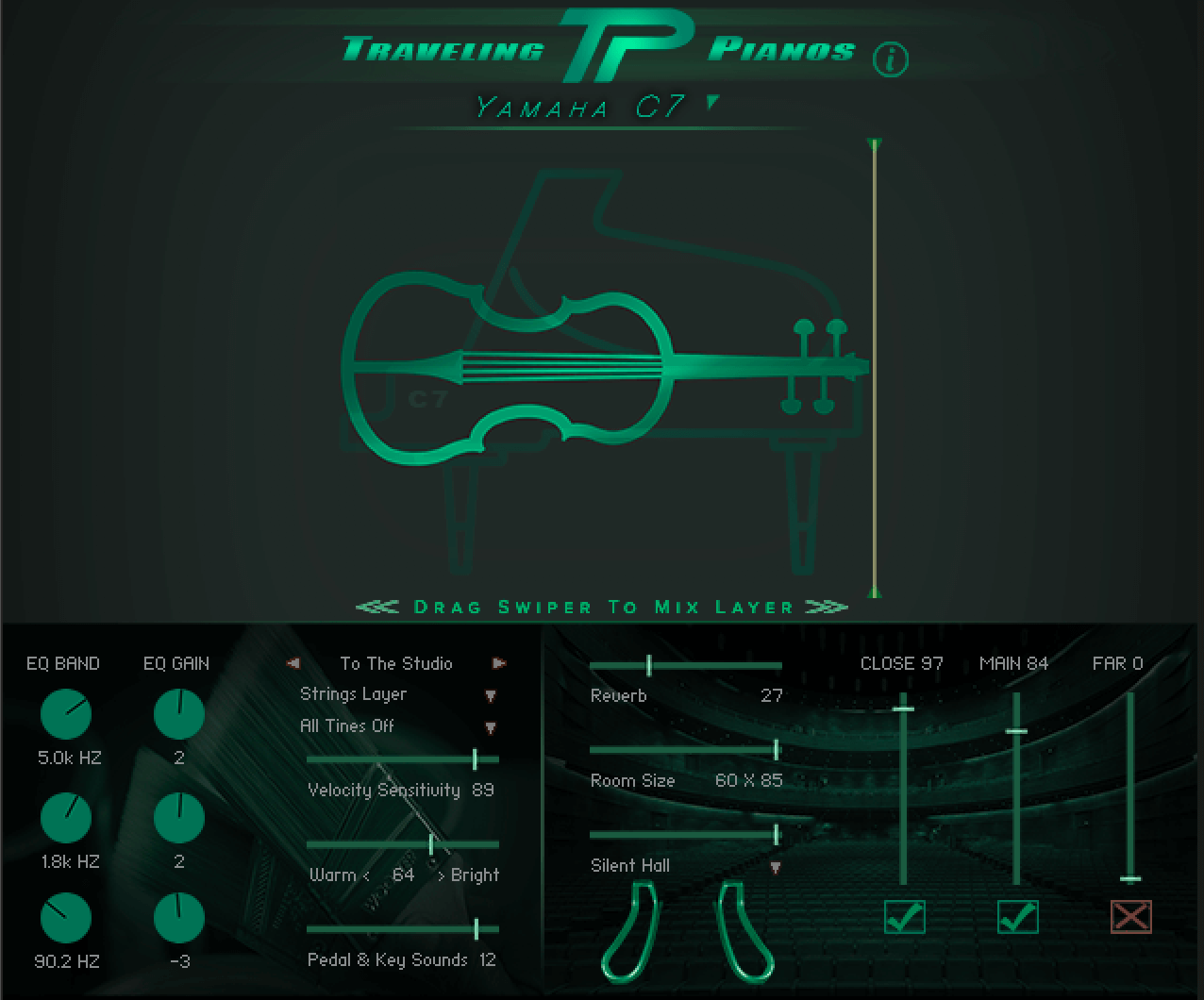 All of the controls and features are laid out in one easy-to-use interface. You likely will not even need a tutorial with this library!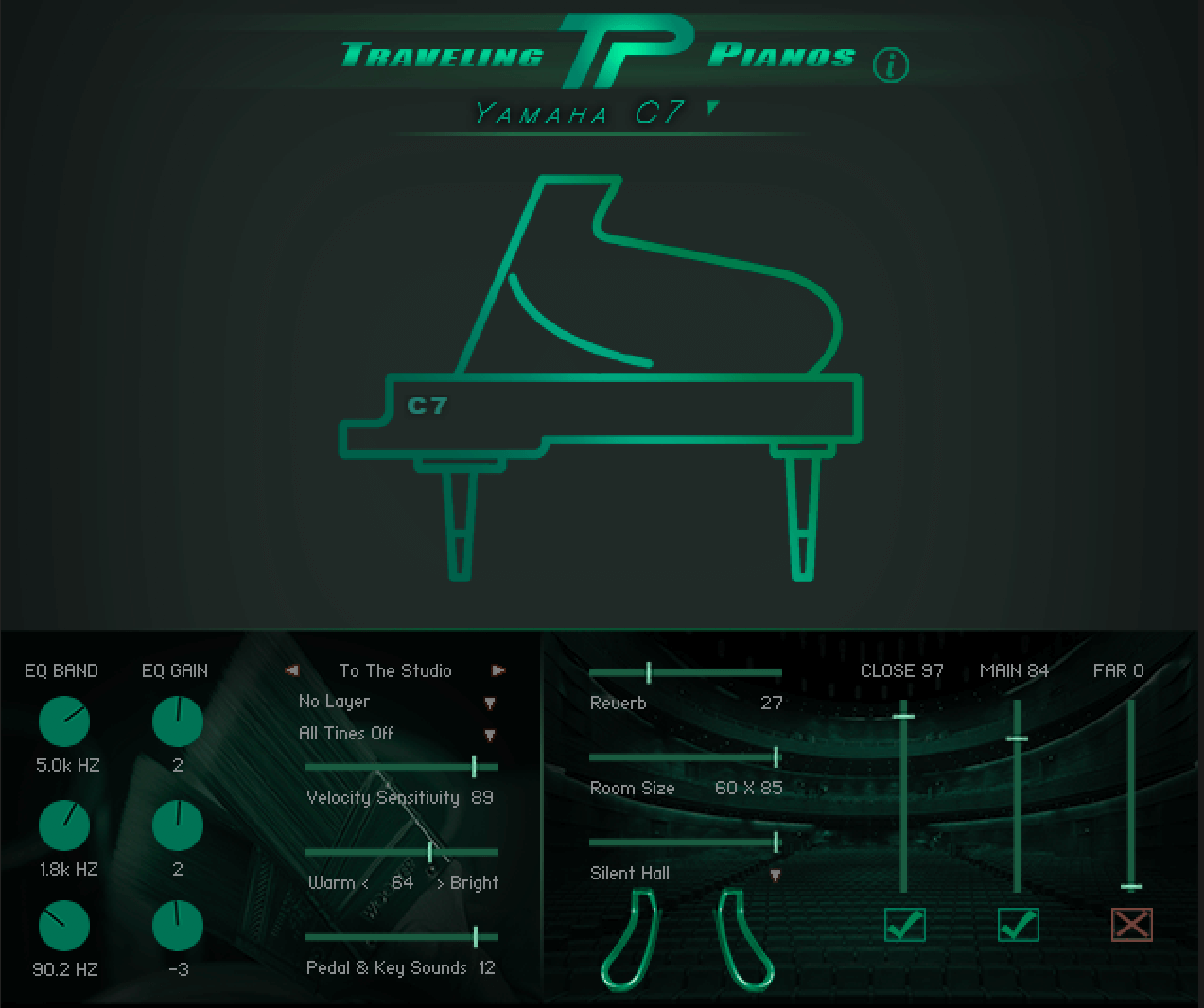 Everything you need from our TWO pianos all on one easy-to-use page.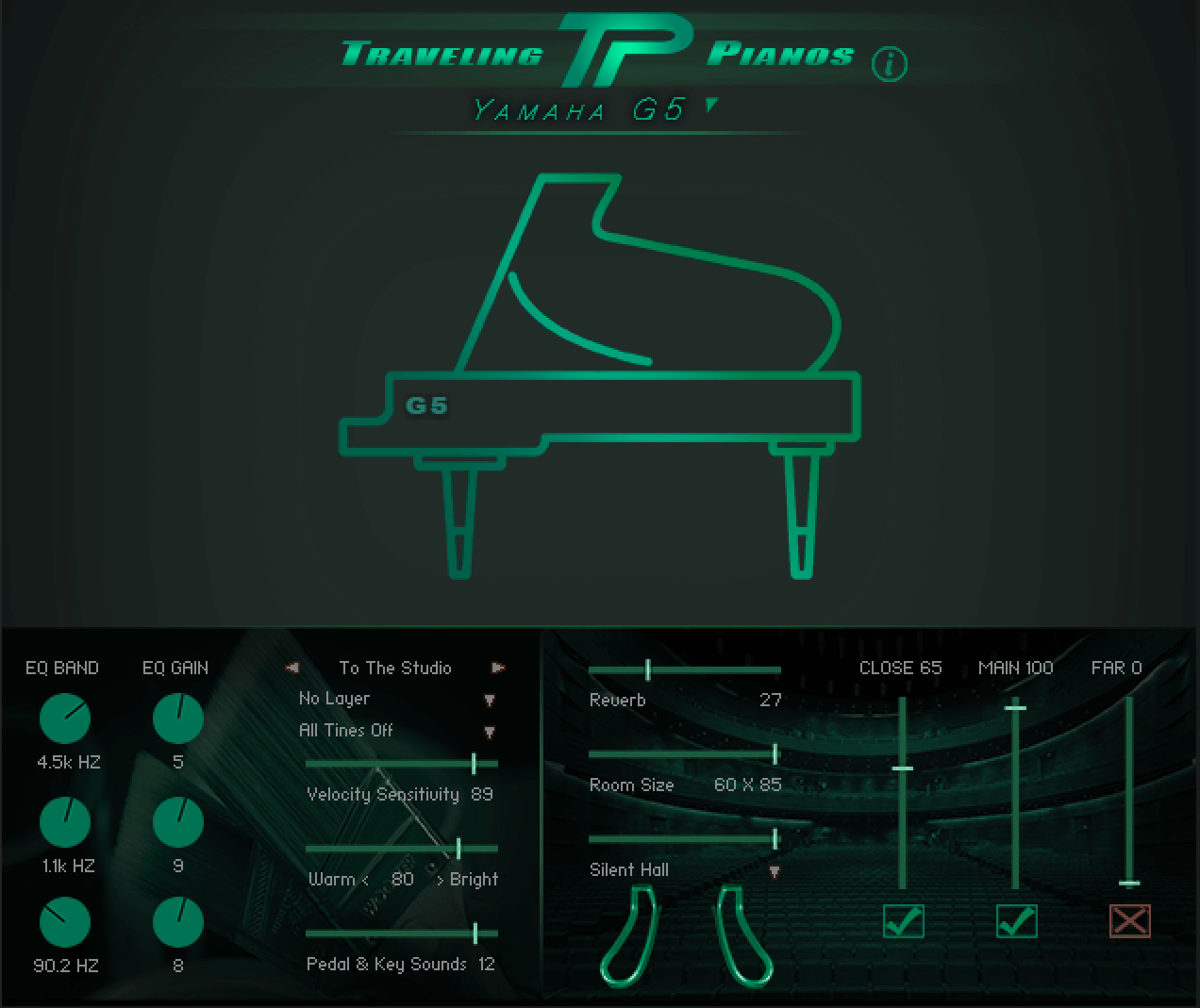 Mixable Layers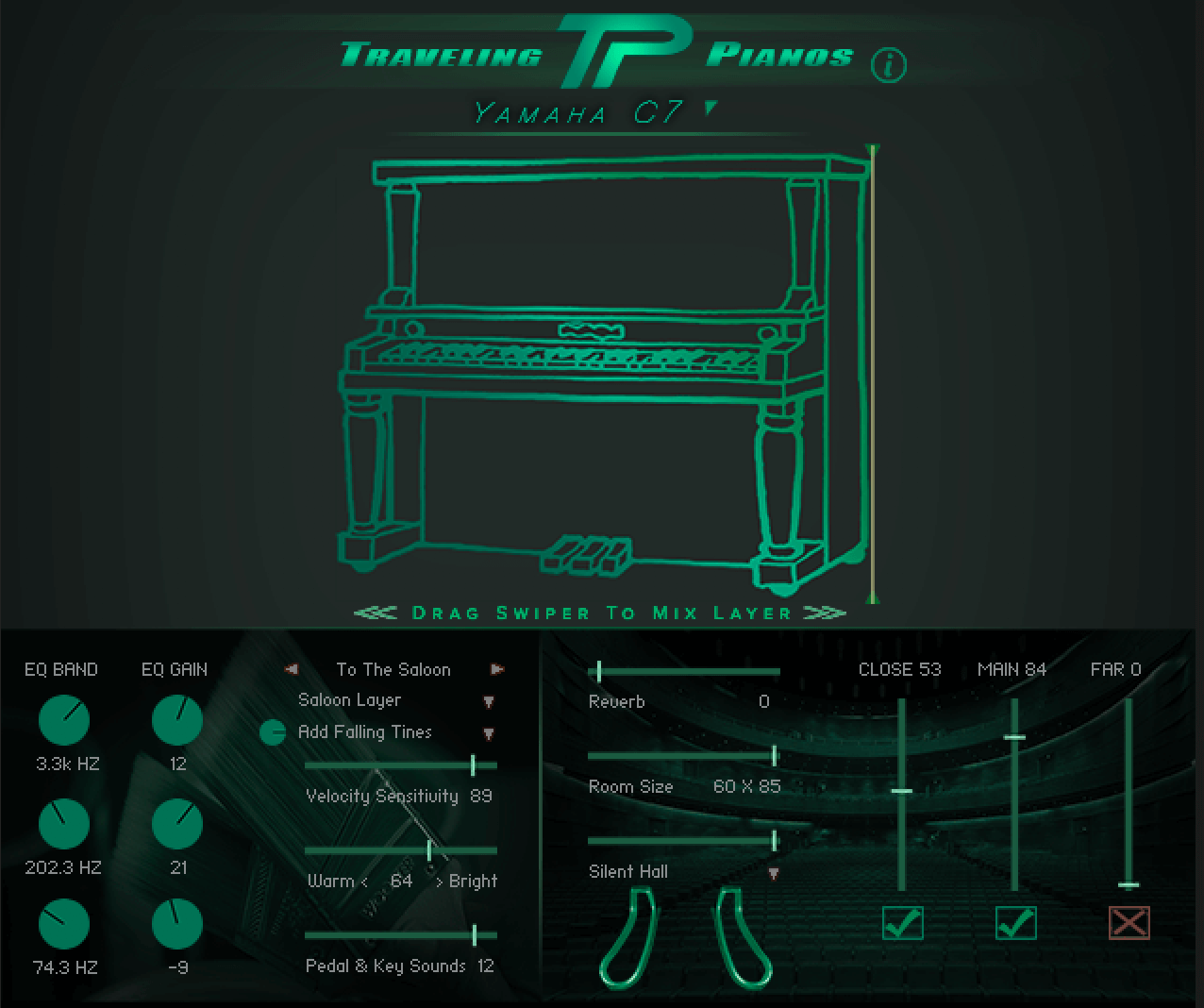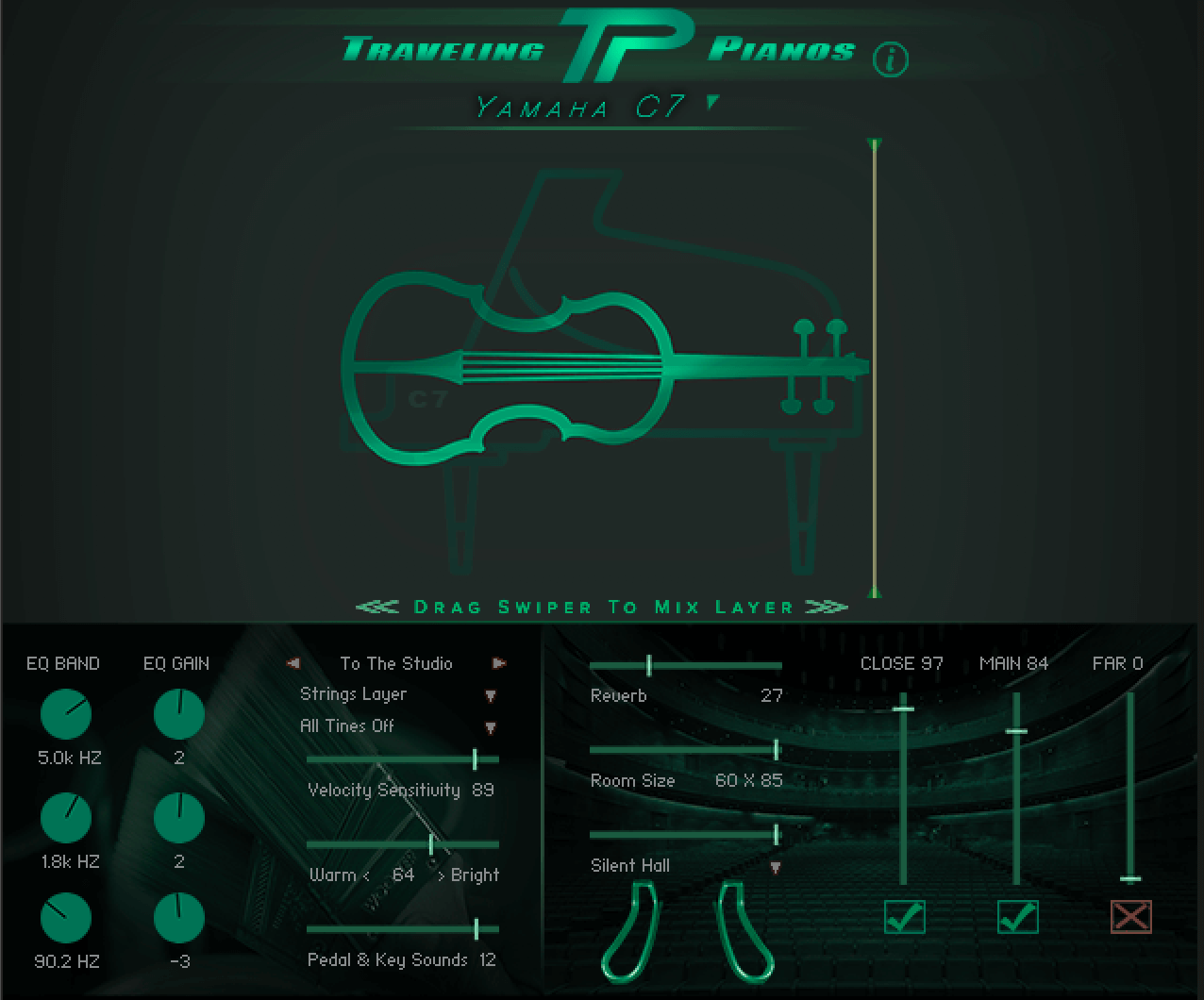 Make sure you have 8GB space.  (approx 3.77GB for the download, and approx 4GB for the final extraction).
Download the KH_Traveling_Pianos.zip file.
Extract the .zip file.
Your final result should appear as below:
KH_Traveling_Pianos (folder)
    Instruments (folder)
        Traveling Pianos.nki
    Multis (folder)
        80s Dreaming.nkm
        Big Rocks.nkm
        Distant Gym.nkm
        Fat Piano.nkm
        Heavy Cream.nkm
        Ice Caves.nkm
        Icy Clouds.nkm
        Jiffy Pop.nkm
        Old Angels.nkm
        Retro Rock.nkm
        Rocky Clouds.nkm
        Silky Strings.nkm
        Stage Rehearsal.nkm
        Stereo on Mono.nkm
        Swan Lake.nkm
        The Audition.nkm
        The Recital.nkm
        Thunky and Tacky.nkm
        Warped Clouds.nkm
        Watery Ice Caves.nkm
        Wide Open.nkm
        Wild West.nkm
    Samples (folder)
        Traveling Pianos Samples 1.nkc
        Traveling Pianos Samples 1.nkx
        Traveling Pianos Samples 2.nkc
        Traveling Pianos Samples 2.nkx
        Traveling Pianos.nkc
        Traveling Pianos.nkr
Full retail version of Kontakt, version 5.7.1 or higher. Will NOT work in the free Kontakt Player! You do not need a serial number and will not need to use the "Manage Libraries" feature.
Mac OS X 10.11, i5, 4 GB RAM, (8 GB recommended)
Windows 7, 8, 10, Intel Core i5 or equivalent CPU, 4 GB RAM (8 GB recommended)
4 GB free disk space for sample content